What is a group?
Groups are community areas where you can ask other members questions, talk to them about your experiences and learn new things.
Groups usually focus on a specific theme – and fall into two categories: open and private. Open groups can be accessed by anyone. However, to enter a private group, you need to be a member. Most private groups are created to support a specific set of individuals, such as learners on an FA course.
Before requesting access to a private group, always read the group information. If you do not qualify as a member, entry may be denied. If you're unsure if a group is for you, or you have any group-based questions, post them in our help forum.
New to the community?
If you're not yet a member, you can view available groups by selecting the 'Explore the community' button at the top of the page. On a mobile device, this button is shortened to 'Explore'.

As you scroll down the homepage, there is a 'Groups to discover' section which also lists all available groups.

Already a member?
Once you've joined the community, you can find groups in two ways. The first is by using the 'Explore the community' button at the top of the page. The second is to enter a group name into the search bar. This will reveal a list of results, which you can filter by selecting the 'Anything' drop-down option and choosing 'Groups'.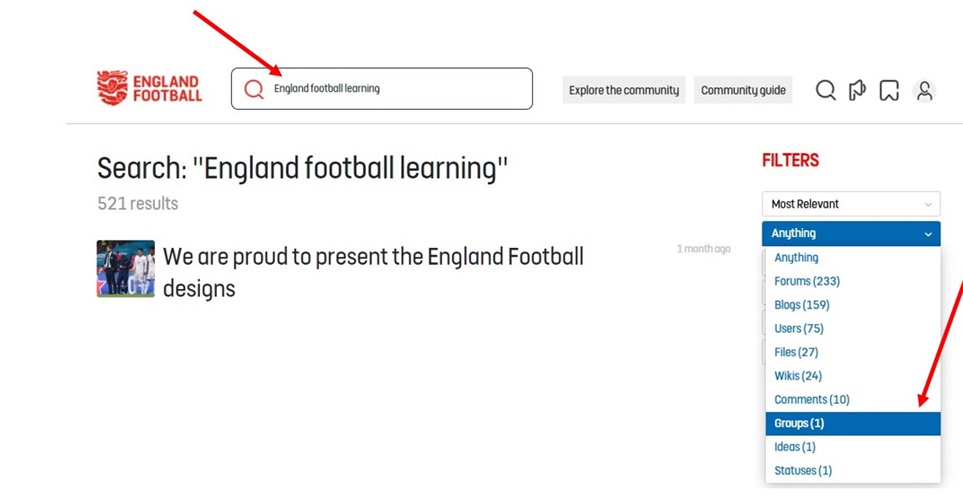 As the community grows, new groups will be added. So check back regularly!