This article will help you understand and configure (if you have permission) features to support applicable GDPR requirements within The FA Community.
1. Right to Erasure ("Right To Be Forgotten")
If you wish to have your community user account (and all associated data) removed then please email the community manager and this can be actioned.
2. Can i Export my data?
YES.
You can export your data from the 'Options' tab within the user settings page. Click the 'Request Export' link. This action schedules a background process to collect the user's data and generate the export.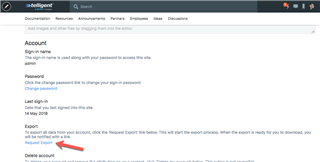 How is the data export file delivered?
When the export is ready, you will be notified by private messaging (if enabled) or email (if private messaging is disabled).
What is included in the file?
The user data export file is a .zip file containing the following originated by you:
Conversations (note: full conversations are included, not just the messages sent by you)
Blog posts
Media posts
Forum thread and replies
Wiki pages
Comments
Status messages
Profile data

Any files referenced within this content are included in a files/ subfolder of the export ZIP file.
What Format is the report provided in?
Per GDPR standards, the report is delivered in JSON format for consumption and transfer as appropriate.