Si Houston (FA game insights analyst) and Mark Neville (FA youth coach educator) explore the findings from a recent case study on how game formats can affect an individual player's actions, such as passing.
As players travel through their developmental pathway, the art of passing becomes a fundamental skill they must master to be successful. Understanding why a player may need to pass is essential for a coach to be fully effective within the game.
Why we pass
Younger players can be selfish when it comes to keeping the ball. But this is ok, and coaches can foster this by encouraging skilful players (who do not always rely on teammates) to pass the ball out of trouble or to help the team progress up the pitch. Introducing the concept of passing early to all players is important, but coaches should make sure a player can make one crucial decision, "should I keep the ball, or should I share it?".
Terminology is also really important in helping children understand the why behind passing. Using phrases like "sharing the ball" and "lending a pass" can help them to find solutions to game-realistic problems.
Explaining to players why each pass is important is a great way to expose them to a range of reasons to pass. Such reasons could be that a teammate may be in a better position to score a goal, or a quick combination may draw opponents out and create space - – so creating a need to pass is vital.
When working with younger players, it's also essential to notice attempts and intent to try an action or pass, knowing that many of these may be unsuccessful. Noticing effort and helping them make sense of unsuccessful attempts, creates a safe environment that encourages them to continue trying. As an example, we might say, "I love how brave you were trying to find the furthest player; why do you think that it didn't quite work?".
Why not take a moment to consider what words you commonly use and the effect they have on your players?
What we found
The DNA Cup is an annual U9 festival hosted at St George's Park. Teams from categories one, two and three professional academies are invited to participate in a one-day tournament that tests players in different game formats that includes various number of players, area sizes, rules and surfaces.
We have looked at how many passes each outfield player attempted to make during 10-minutes ball in play time across 3v3, 5v5 and 7v7 formats on the day.
So, what did we find?
When calculating total passes from all players combined within the game, the highest number was seen in the 7v7 format (89). This dropped in the 5v5 (61) and was lowest in the 3v3 (57). The numbers are perhaps not surprising as they show that in games with fewer players, we see fewer passes in total. However, when we analyse this information further and consider how many passes were performed per player, the numbers follow a different path.
The graph below plots the average number of passes each outfield player attempted to make. It shows that players passed the ball twice as frequently in the 3v3 format when compared to 7v7. It also shows a comparable amount observed per player between the 7v7 and 5v5 formats.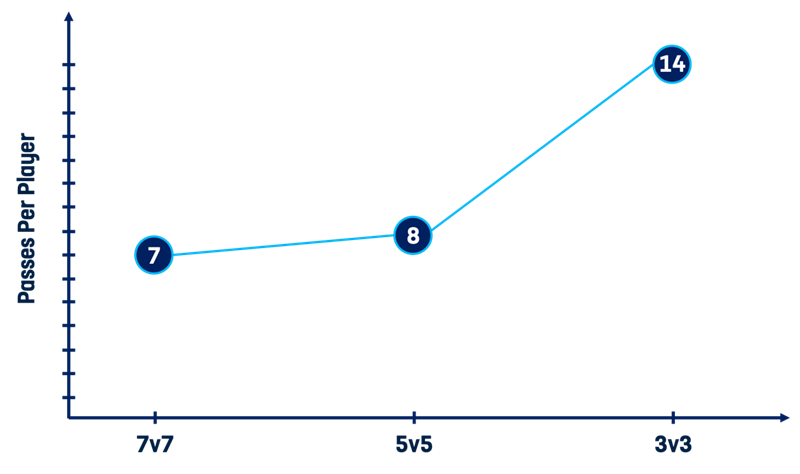 Therefore, if we set up with larger numbers during practice games, it's easy to observe a high number of passes. Each time a player elects to pass, they may have multiple options in different directions, requiring several techniques. Although, when we consider the findings above, we saw that if we want a higher number of repetitions per player, smaller formats are a great solution. They often require lightning-quick decisions in tighter areas and allow players to forge relationships between themselves using the FA's six core capabilities of scanning, timing, disguise, movement, positioning, and technique.
How do we practice?
Limiting touches is a constraint often used by coaches within practice, but we must be cautious about how it's applied. If we restrict how many touches a player can have when in possession, we limit their decision-making. Rewarding a particular type of pass or combination while allowing players to choose another option is an excellent way to promote positive play and keep players on task.
The data within our case study shows that 3v3 brings the most individual passes compared to other formats involving higher numbers of players. When observing these passes, we saw often saw players moving with the ball to beat an opponent before they found a teammate with a pass. The practice below captures the art of decision-making within a small-sided game.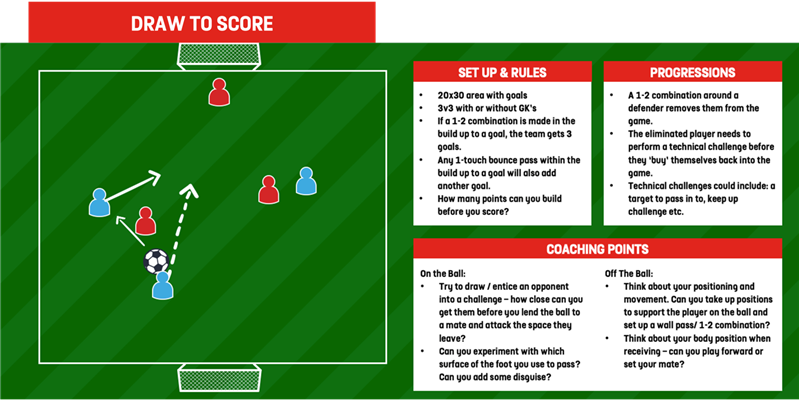 Hopefully, you find this blog useful for developing passing with your players. We would love to hear if you have tried this practice or if you have any other great games you use with your players?
If, so please share your thoughts below.