In this
blog
, Vinny Halsall, The FA's coach developer discuss
es
the psychological element
s
of
challenging
and
how you can develop them with your player
s.
As coaches, we are constantly finding ways to help our players become more skilful so that they can contribute positively towards team performance. One crucial skill that we should focus on to help this is challenging for the ball. However, working on challenging, especially when out of possession, is often overlooked. So, how much focus should we place on developing this skill and its associated psychological aspects?
With reference to the psychological aspects of the six key capabilities (see diagram 1), that are fundamental to the development of 'skilful challenging', I aim to highlight:
What the decision-making process looks when skilfully challenging for the ball.

The need to consider individual psychological strengths and areas for development.

How we can design our coaching sessions to improve psychological aspects of challenging for the ball.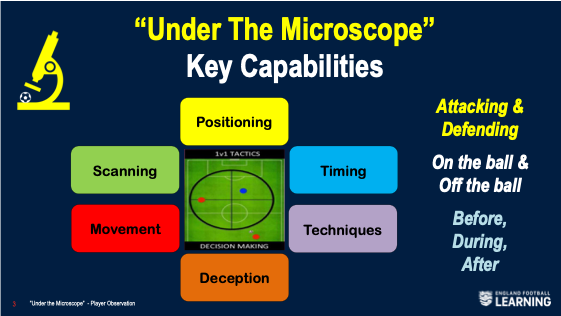 Let's start with decision-making. In understanding that skill acquisition and development starts in the head, scanning is vital here as what an individual player 'sees' is the basis for everything that follows. This is why I frequently ask my young players the following questions:
Why should we play like meerkats?

What do you see?
When deciding whether to challenge for the ball, a player will need to process a whole host of information. This informs their perception of the situation, which might include: the opponent on the ball, their distance from the opponent, which foot he/she is using (normally their strongest one), which direction he/she is moving in and perhaps other players around the ball. This 'picture' created will inform what to do next. Decisions to be made might be whether to try and intercept a pass or nip in and win the ball if the opponent has had a poor touch. Or it could be any of the individual techniques featured in the often-used mantra: close down-slow-down-sit down-show down i.e make a challenge with positioning (bent knees, angled body) being crucial. Whatever the outcome, the thought process highlighted here is fundamental to helping our players become more skilful when challenging for the ball.
In my various roles as part of our England Football Learning Grassroots Development and Physical Education teams, and as a volunteer grassroots coach, I follow a 'person before player' philosophy. This enables me to develop a deeper understanding of a youngster's current super-strengths and areas for development.
Linking back to challenging with a psychological lens, there are several things that I try to get all players to focus on:
Positive and enthusiastic mentality in 1v1 defending situations.

Intelligent decision-making when challenging for the ball e.g. stop turning rather than trying to tackle.

Linked to the last point, the importance of patience and

timing

when looking to challenge for the ball.

Building confidence through successful decision making and challenging.
When designing sessions, you can increase young players self-confidence and resilience to challenge, by giving them lots of different opportunities to practice.
By adopting a 'learning through games' approach, I try to create plenty of 'repetition without repetition'. This enhances motivation and enjoyment through playing well designed games linked to a clear focus, in this case challenging for the ball.
Here are a couple of examples of how I have tried to do this recently:
2v1/2v2 arrival/part activity:

You can see that positive, enthusiastic

,

and intelligent defending is integral to enabling this practice to be realistic and relevant. Therefore, this could be used to develop many facets of challenging as much as it can receiving skills. Check out this article.



Individual player challenges:

This is a great way of focusing their performance on a specific aspect of play. The challenge cards below feature a number of elements relating to individual, unit and team defending. There are specific ones which shine a light on challenging and its associated psychological/cognitive elements e.g. can you make three good tackles in the next seven minutes? Whilst this might appear to be a technical or individual tactics challenge, the task of self- evaluating why the tackles are 'good' is a psychological one for sure.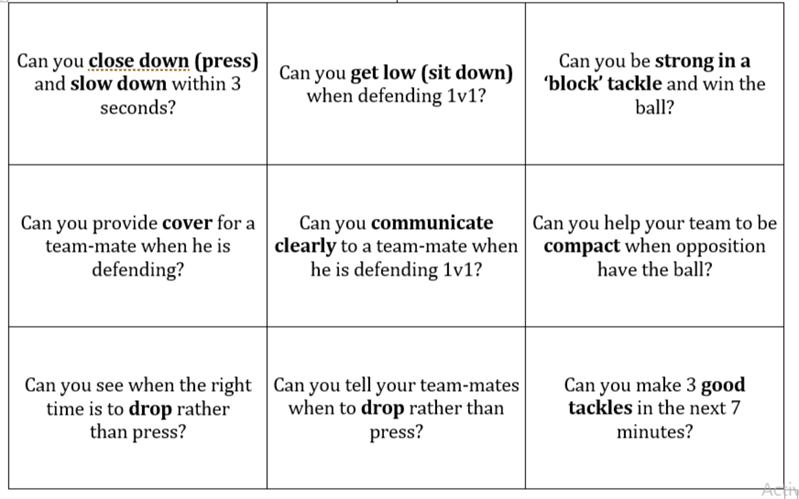 When using these challenge cards, I have distributed then randomly and then tasked myself with identifying what individual players are focusing on, which is an observational and cognitive challenge in itself. Alternatively, you can give specific cards to individuals to boost confidence in achieving one of their super strengths or build resilience with a card that focuses on an area for development.
In summary, as coaches we should be aware of the many psychological and cognitive aspects that relate to skilful challenging for the ball. My final message is that when planning for individual player and whole squad development, what an eight-year-old sees is very different to that of an 18 year-old, as indeed it is for a 28 year-old. Therefore, we need to get into the psychological worlds of our players in terms of their age and stage of development; dare I say, it is a case of 'mind over matter'.
We would love to know how you work on the psychological aspects of challenging with your players and if you have any questions for Vinny. So, if you would like to share or ask Vinny something, please post below.