When deploying a back five without the ball, the roles and responsibilities of the wing-back can be critical in setting up a structure for winning the ball back. In this blog FA Youth Coach Developer Warren Hackett explores the various ways teams utilised this strategy at Euro 2020.
The past few seasons has seen a resurgence in teams playing with a back 3, either through a variation of the 1-3-4-3 or 1-3-5-2 systems. This is a trend that continued into the recent Euros with 45% of teams playing with a back 3. One of the main advantages of playing this shape is that when a team doesn't have the ball they can gain a numerical defensive advantage by having their wing-backs drop in to form a back 5. This is a strategy that we have seen regularly deployed by many of the supposed "weaker" teams of the tournament to limit the attacking threat of the stronger nations, however it can also provide the opportunity to win the ball back in key areas to spring a counter attack.
How did different nations deploy their wing-backs throughout Euro 2020?
The Netherlands
The Netherlands adopted a highly aggressive pressing strategy throughout the tournament, playing with two athletic wing-backs in Patrick Van Aanholt and one of the top tournament performers Denzel Dumfries. When the opposition looked to play into wide areas, the Netherlands wing-backs were ready to jump and apply pressure quickly. In order to achieve this the Netherlands played with a high line, relying on their pace to recover and deal with the threat left in behind.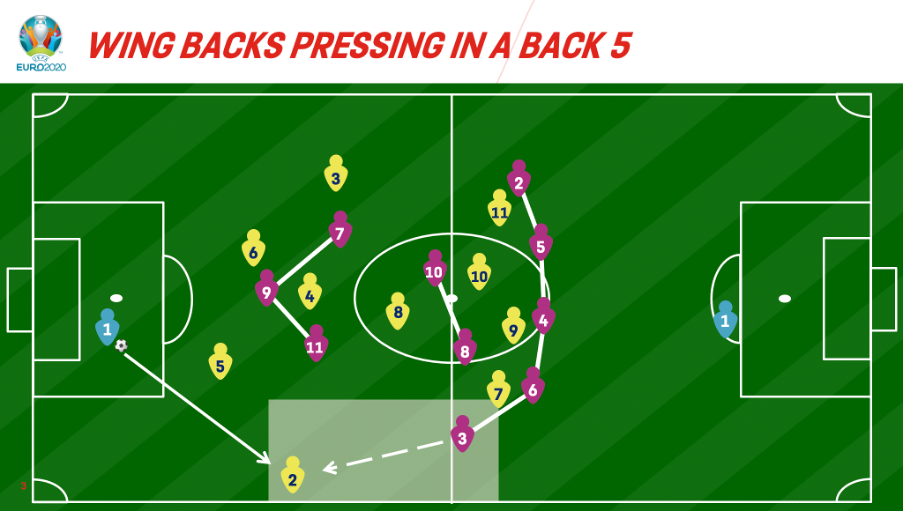 Comfortable defending man for man the Netherlands centre backs were not afraid to be isolated 1v1 and go outside their 18 yard box to defend the wide areas left by the wing backs pressing. This did however lead to their downfall at the quarter finals stage when Dumfries stepped out to press the Czech Republic full back leaving Matthijs De Ligt isolated 1v1 when the ball was played in behind and ultimately resulted in a red card when De Ligt brought down Patrik Shick on the edge of the box. (See 1min into the video below)
Belgium
Belgium went into the tournament as the World's no.1 ranked team and opted to play 1-3-4-3 throughout the tournament. Without the ball they played with a 1-5-4-1 system with their two wing-backs deep to create a back line of 5 alongside the 3 centre backs. With players like Romelu Lukaku, Kevin De Bruyne and Jeremy Doku Belgium possessed an exceptionally fast and strong threat in attack with players willing to run forward. Playing with a back 5 therefore allowed them a greater balance, and a platform from which to spring counter attacks. This was evident in their equaliser against Denmark on 1 mins 19 in the video below:
Unlike Holland's aggressive pressing strategy Belgium adopted a more cautious mid block approach with wing-backs Meunier and Hazard most commonly remaining connected with their centre backs. This however gave the opposition license to switch play and look to pull one of these wing-backs out of their defensive slot. As a result the wing-backs appeared indecisive and weren't jumping high enough to either affect the man or space in front of them, or defend the space left behind them. Denmark were one team who took full advantage of this by positioning players in positions where they could create 1v1 or 2v1 situation's against Belgium's wing-backs. By drawing the wing-backs out, and Meunier in particularly, they were able to quickly in behind him and into wide areas where the outside centre backs lacked the pace to get out quickly and weren't comfortable defending 1v1.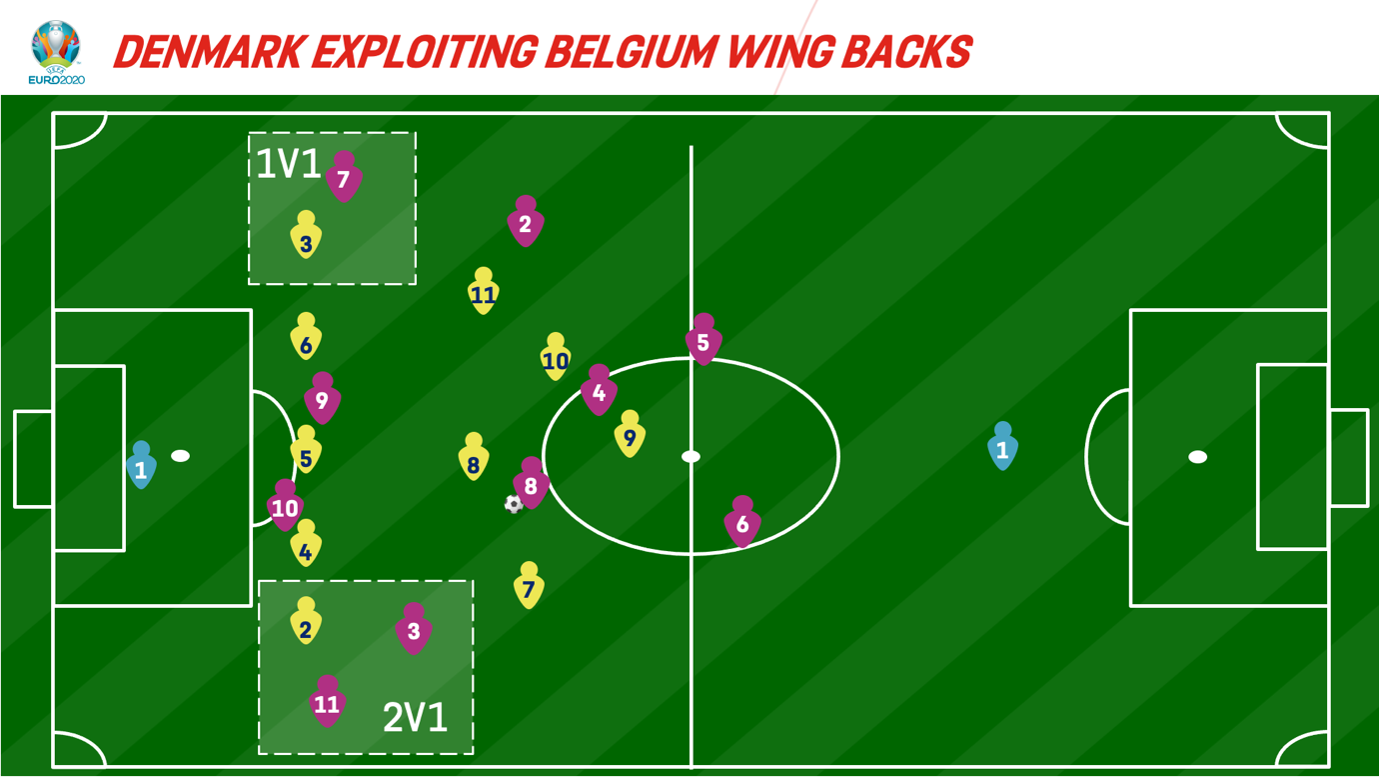 England
England alternated between playing a back 3 and 4 throughout the tournament and two key games they opted for the back 3 was against Scotland in the group stage and Italy in the final. Potential reasons for this against Scotland may be that they wanted to match up Scotland's shape and nullify the threat of Andy Robertson, or to get crosses into the box and as a result pin the Scottish wing-backs back. However, throughout the game the England wing-backs failed to get out quickly and stop crosses from Robertson and Kieran Tierney, who delivering a total of 10 crosses, a tournament high for Scotland.
This also posed problems in the final as although left wing-back Luke Shaw scored an early goal the two wing-backs Italy's attacking shape of 1-2-3-5 forced the England wing-backs back and as a result they gave up too much possession and allowed Italy to transfer possession for their more creative players like Federico Chiesa to get on the ball and attack 1v1.
Italy looked to create attacks by building possession in deep areas, encouraging England to press high. With Declan Rice and Kalvin Phillips locking onto the two Italian midfielders dropping deep, and Luke Shaw and Kieran Trippier advancing onto the two deep Italian full backs, lots of space opened up behind them and between the defensive lines for Donnaruma to play into the forwards.
Profile of the wing-back
Player profiling is essential in both the wing-back role and those around them. More decisions must be made in this role compared to the traditional full back and failure to get this profile right means it won't work and can give the opposition a significant advantage. It is important also to have centre backs behind who are comfortable defending in full back areas and England's Kyle Walker playing at right centre back is a great example of this.
Regardless of attacking or defensive strategy the wing-back must be very athletic to cover the full side of the pitch and have a well rounded profile in order to defend and track runners, whilst also providing a threat in attack. The first decision on whether to jump to defend the space or opponent in front will depend on the ability to read pressing triggers (eg slow pass, backwards or sidewards passes, opponent's back to goal or head down).
Once the decision to press has been made they must be brave and willing to defend in 1v1 situations, but to also ready to move quickly to the next scenario. They must recognise whether they can win the ball (interceptions, tackles), or where to show the opponent if they can't (into bodies or down the line).
High pressing wing-backs
Playing with aggressive high-pressing wing-backs means you can condense teams into the area you want them to go and by forcing play wide you can often gain a 2v1 advantage with the wing-back and outside midfielder. Ensuring everyone understand this strategy means that when the wing-back goes to press, their team-mates recognise their trigger and their individual role in relation to it. Naturally this strategy will apply pressure to the opposition in wide areas which can stop crosses before they happen, a strategy that may be particularly useful when playing with centre backs who aren't particularly strong in the air or dealing with a strong and physical opposition striker.
There are however greater risks involved when consistently pressing high as a wingback. It requires a lot of consistent energy and can become tiring, meaning it becomes even more important to choose the right moments. When stepping out to press it leaves space in behind which your centre backs must be comfortable defending. If the player doesn't get out to the ball quickly enough, or allows the opposition time on the ball it can often be easy for them to be played around through combination play or runners in behind.
Disciplined wing-backs in a low block
When playing with wing-backs who stay deep and connected with their defensive line in a low block a team can be very difficult to break down. Often we see this with teams dropping into an organised 1-5-4-1 shape and even at times teams like Belgium have become a back 6 when under periods of intense pressure. Playing in this way does give the opposition the advantage of possession but limiting space between the defensive lines means they must try to pull one of the wing-backs out in order to create and exploit space in behind.
Coaching considerations
Have I got the right players in my squad to play with wing-backs? (Need for athletic players in the role itself, as well as centre backs who are prepared to defend 1v1 in wide areas)
Consider delivering practices where the defensive team have the overload against a team that can regularly switch play. This will create the decision for the wing-backs on whether to press or stay in shape.
How can we utilise the wing-backs to set traps as a team to force the opposition into areas where we can win the ball back?