With the 3rd round of the FA Cup fast approaching, we take a look back at last year's competition and focus on counter attacking.
With 69% of all possessions starting from transition players must constantly recognise when to attack quickly or retain possession. The 2020/21 FA Cup saw 14% of open play goals being scored as a result of a fast attack from a transition, more commonly referred to as a counter attack.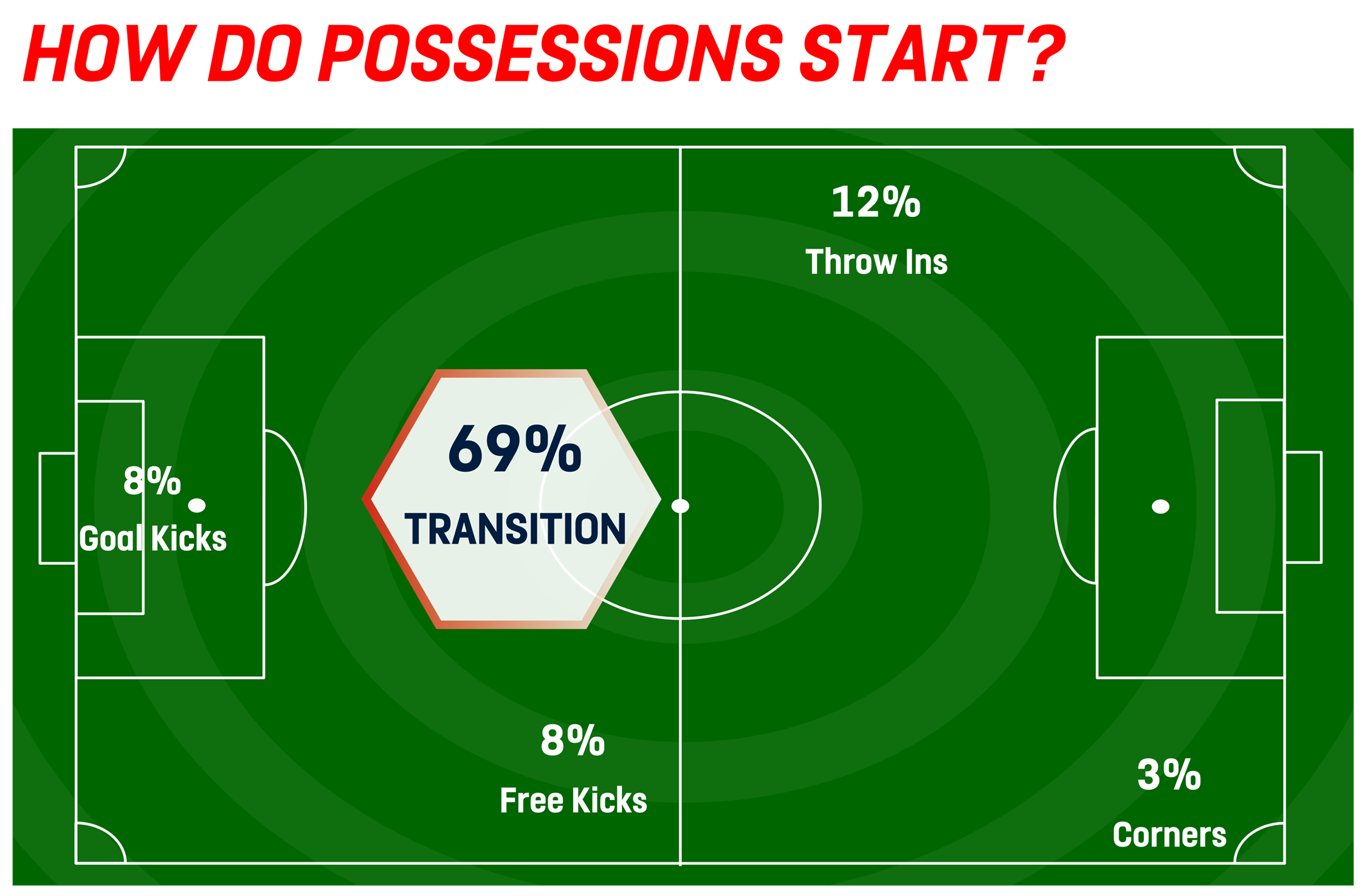 What is a counter attack?
For the purpose of this analysis a counter attack has been defined as:
"A fast and direct attack occurring from a transition and consisting of minimal passes, with the purpose of creating a goalscoring opportunity before the opposition can recover to an organised defensive shape."
What does this look like?
Where do counter attacks start?
In 68% of the counter attacking goals reviewed, the transition occurred in central areas (Lanes 2,3 or 4) shown in the graphic below. Further to this, 61% occurred from the attacking team winning possession back in their defensive half. This can often leave the opposition vulnerable as their players must attempt to switch quickly from their attacking positions to regain a solid defensive shape and prevent conceding from a counter attack.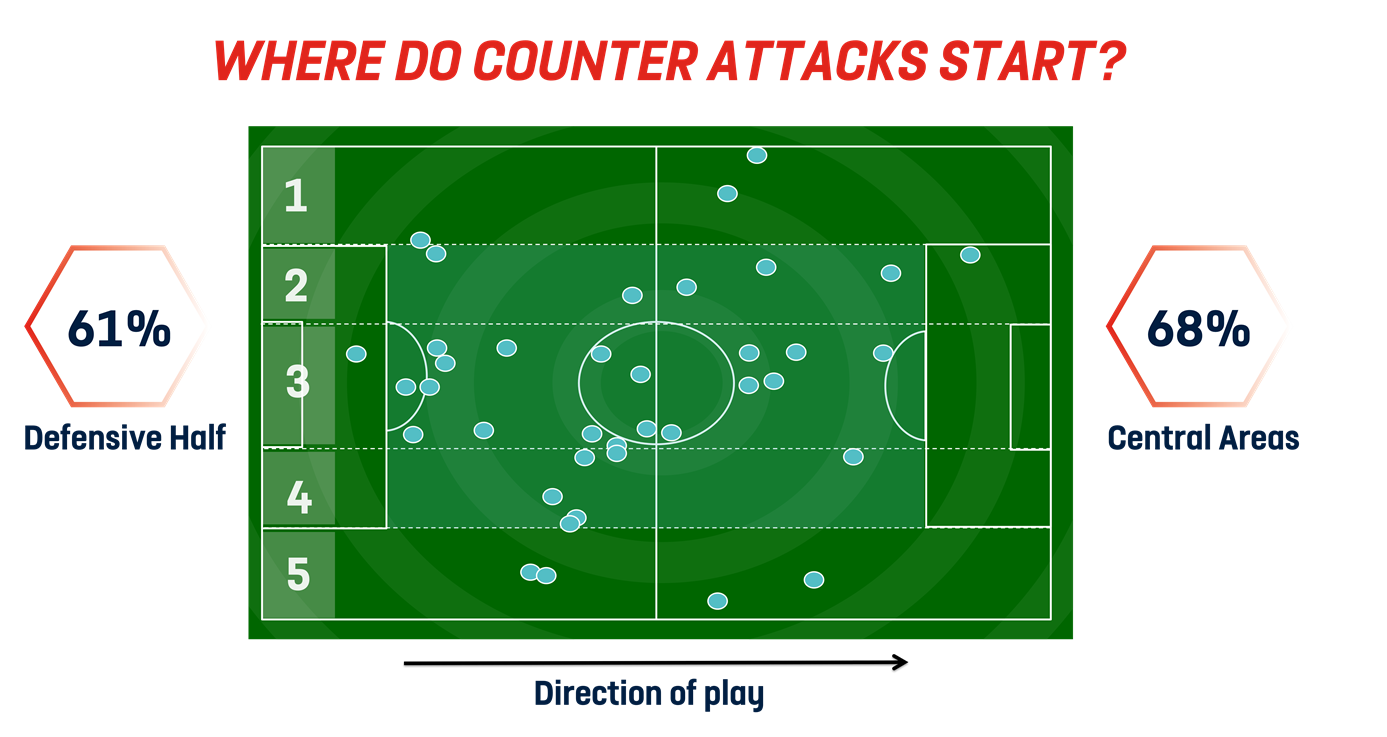 Where and how are teams attacking?
With the majority of transitions taking place in central areas we have seen that teams tend to attack as quickly and directly as possible with 73% of cases remaining in central areas, and just 27% featuring the ball being played into wide areas.
On average, counter attacking goals take 8 seconds from the moment of transition to the goal being scored, with a range of 4 – 15 seconds. They involve on average 2 passes, but ranged from a direct shot (no passes) to four passes from transition to goal.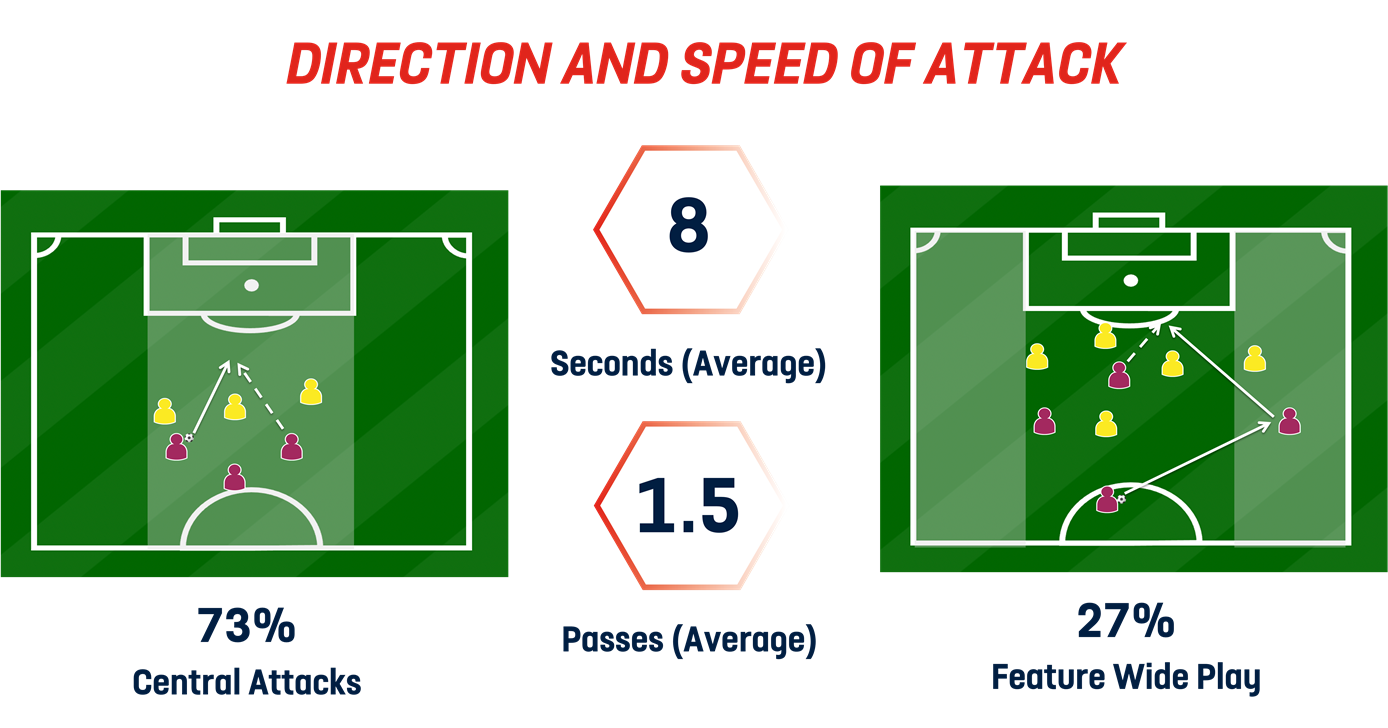 A cup winning counter attack
Youri Tielemans' FA Cup winning goal for Leicester against Chelsea is a great example of a team being really direct when winning the ball back. With just one pass made from the point of transition Tielemans picks the ball up centrally, quickly identifying where the space is before driving forward to have a strike at goal.
Considerations for coaches
How might you set up your practice to encourage teams to attack quickly on transition? What conditions could you place on the opposition?
With 73% of counter attacking goals coming through central areas only (without the ball being played out wide) how might you mark out your pitch and reward your players for attacking centrally from transition?
What would influence your decision to utilise a counter attacking strategy? (E.g., maximising key players within your team, targeting a specific opposition weakness)