At 6'4", Botman already looks like a strong, dominant player in the Dutch backline. An imposing, physical player, Botman also displayed great ball playing technique as a left footed centre back, demonstrating just how skilful a central defender can be.
Background and player journey
Botman has represented the Netherlands at every level from U15 through to the U21. In total across the age groups, he has notched 31 appearances (5 at U15, 5 at U16, 3 at U18, 10 at U19, 2 at U20 and 6 at U21) and scoring 1 goal for the U21. He was called up to the senior Netherlands squad for the first time in November 2020.
Having spent his earliest playing days in grassroots football in the Netherlands for his hometown club RKSV Pancratius, Botman moved to Ajax's academy at the age of 9. Botman made his senior debut for Jong Ajax at the age of 18 in June 2018. Botman made 28 appearances and scored 2 goals for the club during the 2018/19 season. This was obviously enough for teams to come looking at him. So much so, Botman spent the 2019/20 season on loan at SC Heerenveen in the Eredivisie making 26 appearances (and 2 further cup appearances), scoring 2 goals and assisting 4 goals, gaining some vital first team Eredivisie experience in the Netherlands.
Botman signed for Lille for the 2020/21 season on a 5-year deal for £7 million. Lille said of his signing, "Botman has chosen to join LOSC to bring his qualities and continue his development in a favourable environment. LOSC is delighted to welcome this young talent into its midst, detected and recruited for his profile perfectly suited to the Lille playing pattern." He made 37 league appearances as Lille were named Ligue 1 champions for the first time in 10 years, 2nd only in minutes played to goalkeeper Mike Maigan. The fee of £7 million has already proved to be an absolute bargain, and if the club decides to sell at any point, a huge profit will certainly be coming their way.
Sven Botman has been described by his Lille teammate Jose Fonte as a young player 'mature beyond his age' and with 'all the ingredients to succeed at the top level...He's a defender, and by that, I mean he likes to defend; he likes to play simple, he's strong, he's tall, he wins his duels, he doesn't overcomplicate the game, he's good on the ball, left-footed."
After an extremely strong league and international season for Botman, there are high hopes for where his career can take him. To be gaining so much experience in one of Europe's top five leagues is vital for his development. No player under the age of 22 in the top 5 leagues (Premier League, Serie A, La Liga, Bundesliga or Ligue 1) has managed more minutes this season that Botman.
He is a pillar of consistency and this will stand him in such good stead for the future, and it seems certain a giant club will come in for him in the future.
U21 Euro 2020
Botman was very strong in the air, a towering figure both defensively and on attacking set pieces. This was further confirmed with his headed goal from a corner v Hungary in the 6-1 win in the group stages, where he powered the ball into the back of the net. A real physical defender, Botman relishes a challenge and the physical aspects of defending, occupying the middle of the pitch very well. This is showcases again with his aerial skills, competing for 3.6 aerial duels per 90, winning 79% of these. This is aided not only by his physique, but his very good special awareness and anticipation of the flight of the ball to win the header. During the tournament, Botman won 69% of all his duels (floor and aerial); the average for a central defender with 3 or more appearances in the tournament was 60%.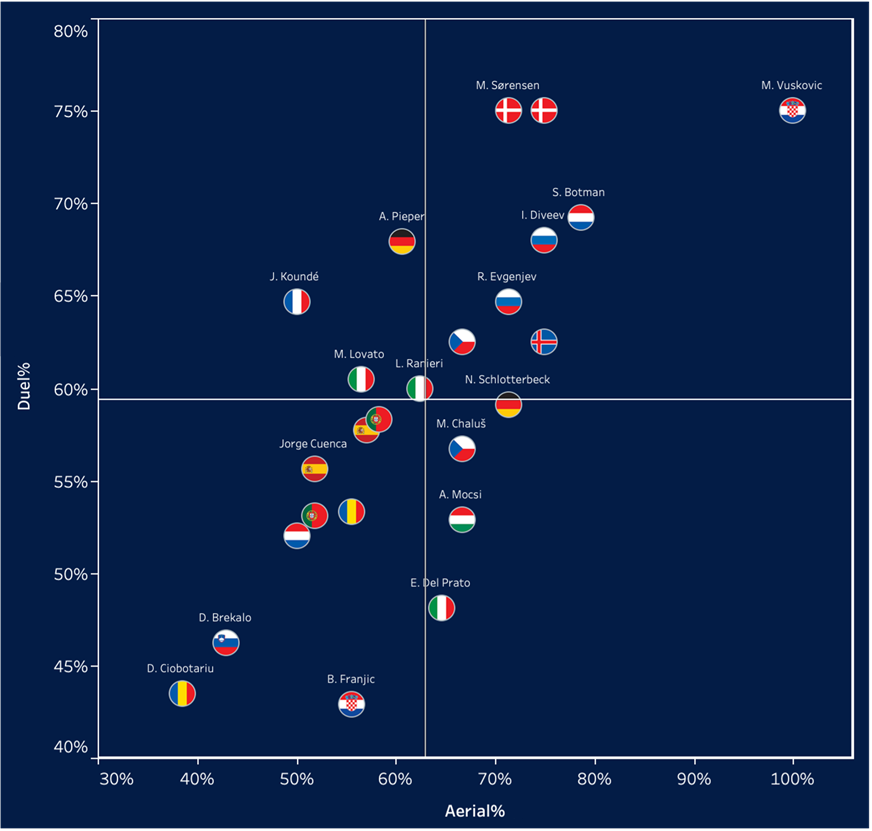 Botman shows a great turn of pace, something that may be seen as rare for someone of his physical stature. Botman likes to get up close and personal to attackers and can use his pace and recover well to get back into decent positions when needed. Botman defends well in behind and covers well in deep. He can also use his pace well to defend 1v1 in the channels when his full backs are high and out of position.
Botman also demonstrated good technical skill in his passing and when building up from the back. Across the 4 games he played at the Euros, he attempted 324 passes, completing 294 of these (91%). This was the 4th best completion rate for a central defender with 3 or more games during the tournament. Botman has confidence to step in with the ball and entice opposition players, freeing up his teammates to receive the ball. Again, this just highlights Botman's technical passing ability as well as his aerial ability.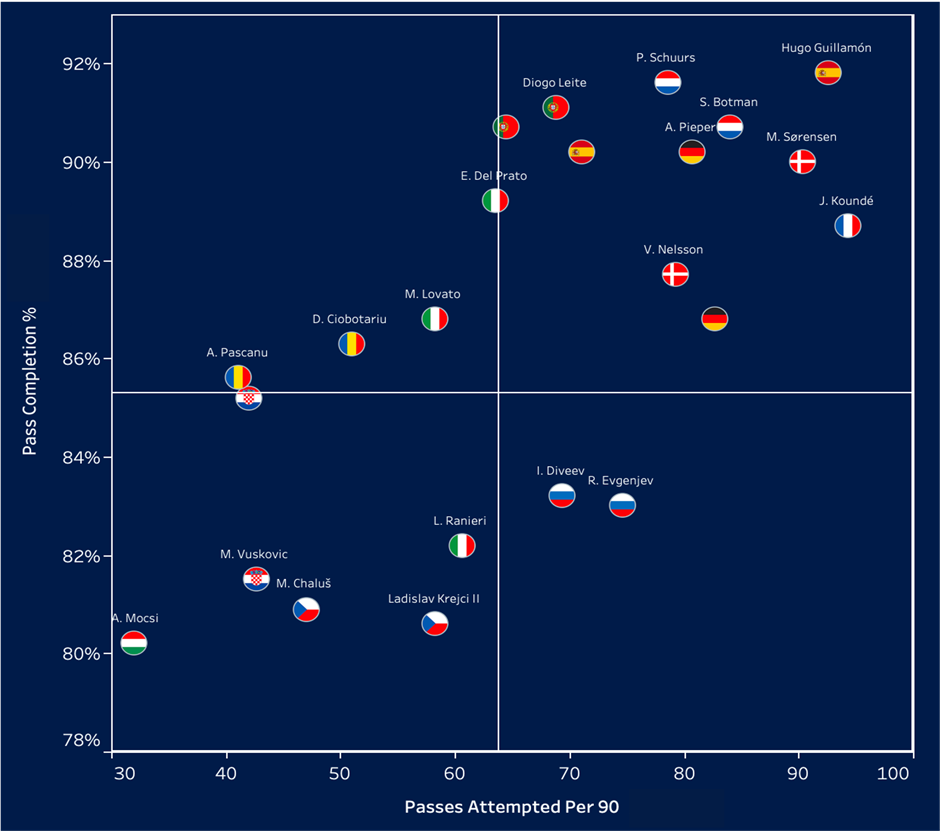 Coaching considerations and practice design
Botman is a modern defender. To help your players develop the skills required to become one, try working on positioning, decision-making and getting comfortable on the ball. Playing in midfield could also help. It gives players plenty of opportunities to get on the ball and to pass – experience they can transfer when they play in defence.
Encourage players to step in on the ball with confidence. Have more touches and keep the ball to entice an opposition player to free up a teammate.
Defending focus – defensive positioning – interceptions – marking / challenging (1 v 1 duels)
Coaches need to put an emphasis on timing of movements & positioning for a centre back when defending in central areas to step in and win the ball past the players they are marking.
Questions to consider
What are the benefits of a B team rather than the U23 teams we see here in England?
What benefit does a strong support network have on player development?
How can we develop more players that have great physical strength and great technical ability?
Sven Botman photo credit: Dean Mouhtaropoulos/Getty Images Sport via Getty Images