The summer Olympics 2020 tournament was a great opportunity to watch some of the best female players in world football.
It was always going to be a great competition, with many teams having the squad depth and team skillset to challenge for medals. But who grabbed our attention most? We focus on key individuals from the Summer Olympics – and examine how you can develop similar players.
Stephanie Labbe, 34, Goalkeeper, Canada
At the age of 34, Stephanie Labbe was the second oldest goalkeeper at the tournament (behind Lindahl of Sweden). But with age, comes great experience. A career that started back in Canada in her hometown, led to her representing the University of Connecticut as part of her studies. From there, she moved to Europe, playing in the Swedish top tier for teams Pitea IF and KIF Orebro. Labbe found herself back in the United States in 2019, signing for the North Carolina Courage, as they were named NSWL Champions.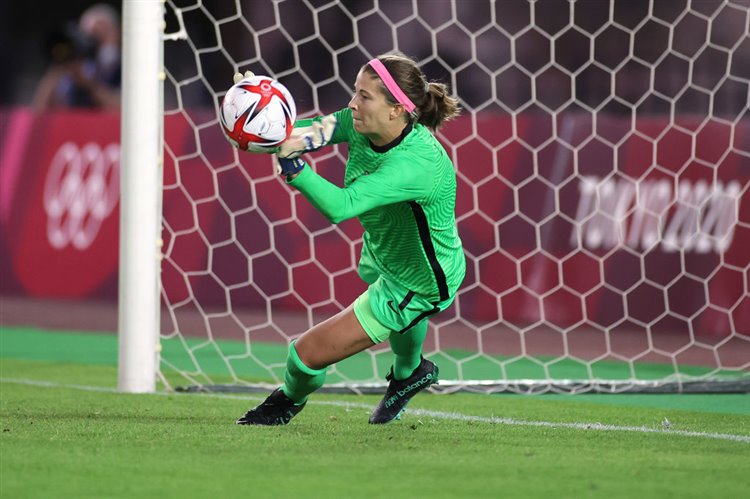 The shot-stopper was representing Canada at her second Olympics, having already won Bronze at Rio 2016. Labbe did everything she could to ensure that Canada were better this time round, and helped propel the team to Olympic Gold for the first time in their history. She made 20 saves during the tournament, conceding only two 'normal time' goals. This means she had a save percentage of 91%, the best for a keeper at the tournament. Not only that, she was somewhat of a penalty specialist. She faced 12 penalties across the Olympics (regular time & shoot out) and saved five of these. This means she had a 42% save rate at the Games, something that was previously unheard of. She made two crucial shoot-out saves in the semi-final v Brazil, and then again repeating that in the final v Sweden, as she ensured the Canadian team would lift gold.
Having just signed for French top tier side PSG, it is hoped that Labbe will continue to be a goalkeeper at the top of her game domestically and internationally, until she decides to hang up her boots.
Kadeisha Buchanan, 25, Defender, Canada
Kadiesha is just 25 years old and has already over accumulated 100 appearances for the senior Canada team. She was just 17 when she made her senior debut for Canada. And has gone on to be named Canadian Player of the Year in 2015, 2017 and 2020. She was even named Young Player of the Year at the 2015 World Cup. Like Labbe, she was a part of the Rio Olympic squad that won Bronze. The aim always going into the Summer Tournament was to reach that final and win gold, something Buchanan was central to, as she played more minutes than any other player during the tournament (600 minutes). The only Canadian player to not be subbed on/off, highlights just how pivotal she was to the team, and a real reason as to why Canada won their first ever Olympic gold medal in football.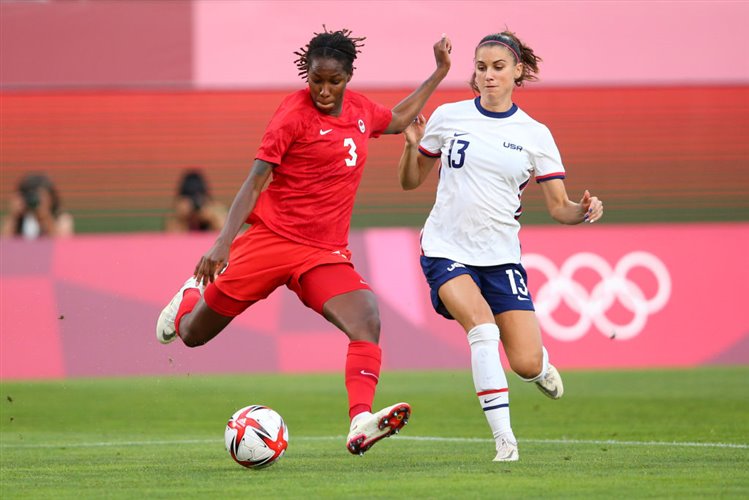 At the tournament, she was a standout player out of possession, winning 2.85 ground duels per 90 (average for a centre back was 1.92 per 90). She showed excellent pro activity when defending 1v1 and was able to showcase strong intercepting skills. She had the 5th highest defensive 3rd recoveries/tackles/interceptions per 90 (7.8 per 90) for a defender.
Buchanan demonstrated just how needed she is in the Canadian backline, with her ability to defend in central and wide areas. In possession, Buchanan was just as good, a real key influence in Canada's build-up play. She was able to penetrate through opposition teams, both with short passing and longer direct passing. She attempted 46 passes per 90, with 83% being completed. She was also very confident to step out of defence with the ball, as 36% of her touches occurred in the middle third, a high percentage for a central defender. This confidence led her to be able to take opposition players on, as she attempted 1.2 take ons per 90, the second highest for a CB at the tournament.

Buchanan has been at French club Lyon now since the summer of 2017. Between then and now, she has won the Division one Feminine, the Coupe de France, and the UEFA Champions League. A born winner, and still only 25, Buchanan has a career ahead of her where she will certainly be able to add to that list.
Lauren , 21, Midfielder, Team GB
Lauren has played on some of the biggest stages in football despite still only being 21 and has always delivered. She came into the summer tournament after an excellent season at Manchester City, where she was named PFA Young Player of the Season for the third time in her WSL career so far. This is after some fantastic performances that saw her score six goals and grab eight assists in the 2020/21 league.

It was truly brilliant to see her attacking prowess on the world stage this summer, again putting on performances beyond her years, especially as the youngest member of the Team GB squad. Compared to other wide players at the tournament, had the 5th highest touches in the attacking third per 90, the highest touches in the opposition box per 90, and the third highest chances created per 90. An amazing feat at her age.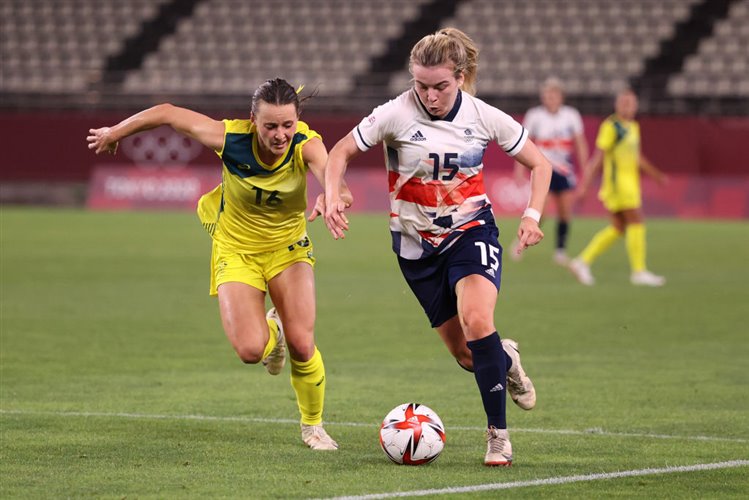 Not only that, compared to every other player at the tournament, she attempted the most take ons/attacking 1v1s (10.7 per 90), she carried the ball the furthest (332metres per 90) and she was the most fouled player at the tournament (fouled five times per 90), which highlights that opposition players couldn't get near enough to her to get the ball! This also highlights her competitive nature, and fearlessness to get on the ball and try and make an impact for her team. Her mum Julie said, "She's always been competitive. The ' Olympics' she had with her sister in the back garden was she was younger is a good example. She had to keep doing events until she won them!"

Sure to be a stand out player for years to come, this young Norfolk-born player is just at the start of her journey, which could see her emulate England players of years gone by.
Vivianne Miedema, 25, Forward, Netherlands
What words are left to describe Vivianne Miedema?
The Dutch native has had a spell bounding career, despite still only being 25. She was always destined for greatness, especially after making her Senior debut for SC Heerenveen in September 2011 at the age of 15, where she scored ten goals in just 17 games. In the October of 2012, she scored eight goals as the Dutch U17 National team beat Kazakstan. By the age of 17, she was the league's top goalscorer, scoring a whopping 41 goals in 26 appearances. That same year, she was a part of the U19 Netherlands team that won the UEFA Women's U19 Championship, where she was named the Golden Player and Top Goalscorer. Miedema moved to Arsenal in May 2017 and has gone from strength to strength since the move. She has been named PFA Women's Player of the Year (2019), WSL Top Goalscorer (2019 & 2020) and became the first player to score 50 WSL goals too.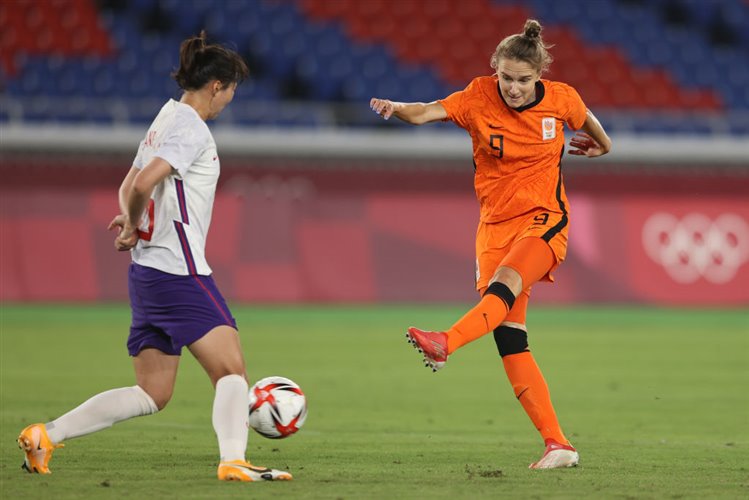 Breaking records seems to be Miedema's thing. As she was at it again during the summer tournament. She finished as the top goalscorer with ten goals in just four games. Happy to showcase her technique, five were scored with her right foot, four with her left, and one with her head. These ten goals are the most scored in a single Olympic tournament ever. She was so influential in Netherlands final third. She wasn't content with just scoring the goals, she wanted to create them too! Creating five chances for her teammates, getting one assist. Her pass completion of 78% was extremely high for a striker, compared to the 66% average.

As we are into another WSL season, with high-flying Arsenal. The question is, what other records are left for Miedema to break?
What are your thoughts about this analysis? Was there anyone else that grabbed your attention? If so, let us know below.



Stephanie Labbe, Kadeisha Buchanan, Alex Livesey picture - credit: Koki Nagahama / Stringer
Lauren , - credit: main blog photo - Hector Vivas - FIFA / Contributor and in blog photo - Atsushi Tomura / Stringer
Vivianne Miedema- credit: Francois Nel / Staff