In this blog, The FA's games insight analyst, Dan Simpson and the FA's youth coach developer, Joe Sargison, talk about the importance of being secure behind the ball when a team is attacking. They highlight some key questions players can ask themselves as well as some thought-provoking questions for coaches to consider.
Euro 2020 saw a total of 142 goals, a new record for a tournament finals. We saw lots of clever and creative play from outstandingly skilful players such as Raheem Sterling, Cristiano Ronaldo and Kylian Mbappe, but when they are working their magic with the ball at their feet it's crucial that their team are secure defensively in case the attack breaks down. This was further highlighted by 14% of all open play goals in the tournament coming from counter attacks.
Importance of being secure behind the ball
Being secure behind the attack doesn't just reduce the risk of the opposition scoring on the counter attack, but it provides the opportunity to maintain and sustain possession high in the opposition half. This was especially prominent throughout the tournament with a high number of teams opting to defend in a low block when they didn't have the ball, and as a result the initial attack would rarely break them down. But by the attacking team being secure behind the ball and winning possession back quickly when the attack breaks down, they would often get success from the 2nd, 3rd, or even 4th wave attack.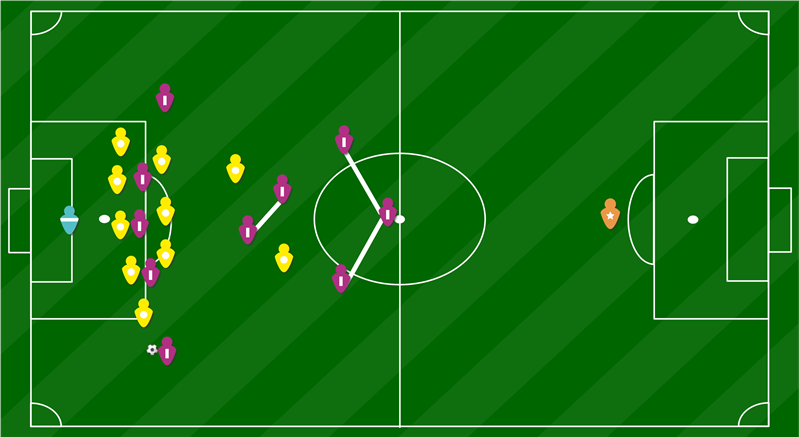 Germany's 1-3-2-5 in possession vs England (Ring of security behind the ball)
Throughout Euro 2020 we saw teams prepared to commit more numbers to the attack, often in a line of five, with 1-3-2-5 or 1-2-3-5 being a common in possession system. This makes it incredibly important to have a disciplined structure behind as it prevents large distances appearing between the forward and defensive units. Limiting this gap makes it difficult for the opposition to easily regain possession in central areas where they can turn and drive at your back line. Winning the ball back right away from a clearance may not always be possible, but having this security helps your team delay an opposition attack by forcing them into areas of less risk (most likely the wide areas).

In the Euro 2020 semi-final Spain failed to get their security behind the ball right when Italy's Donnarumma collected possession from a cross before counterattacking and getting in behind Spain's defensive line, resulting in the opening goal of the game. This can be seen at 1min 13secs in this video.

How a team sets up their security can be largely dependent on the opposition's defensive strategy which may come in the form of an extremely low block where they have nine, or in some cases even ten outfield players within the width of the penalty box. In this instance you may require less players behind the ball and can therefore commit more in attack.

Or it may be that you are playing a team who leave dangerous attacking players high up the pitch ready to counterattack when their team wins the ball back. France are a great example of this with the speed and power of Kylian Mbappe ready to hurt the opposition with fast and direct attacks. Griezmann's goal against Hungary on 2mins 30 secs below is a great example of this, click here to watch the video.

Against these teams you may opt to attack with slightly less numbers but benefit from some extra cover for when your attack breaks down. In general, a good rule of thumb is to secure with one defender more than the opposition have attackers. Therefore, if the opposition leave two players up you set your team to secure with three defenders. This ensures you always have the spare player and are more likely to win possession back than your opposition.
Different ways of being secure behind the ball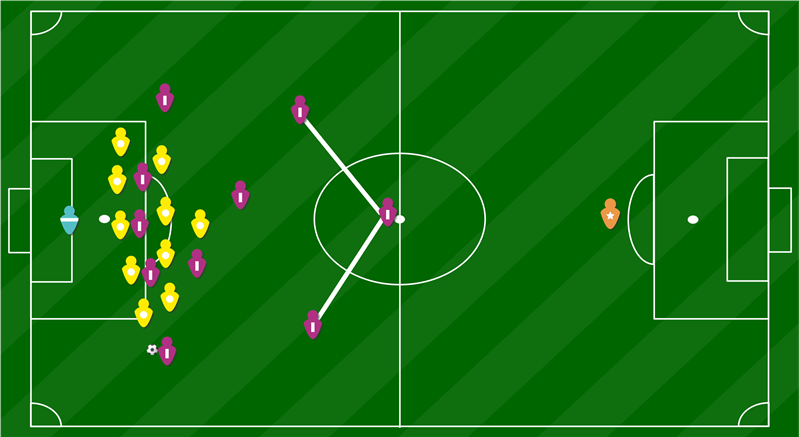 Opposition in a low block provides opportunity to commit more numbers to attack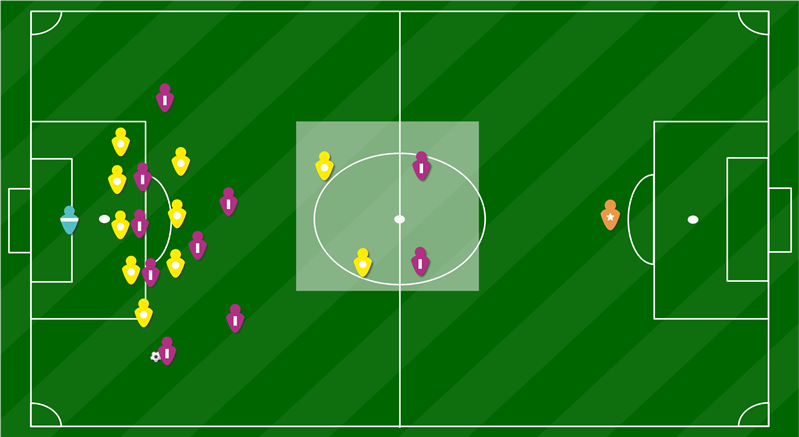 Equal numbers – same amount of defenders as opposition attackers (riskier strategy)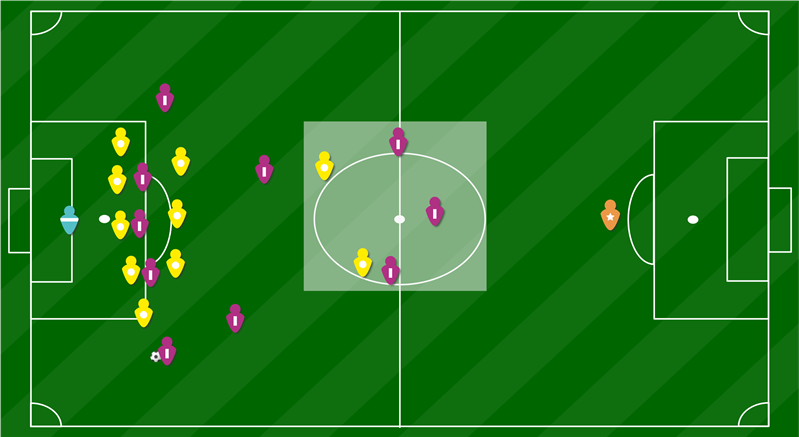 Plus one security (One more defender than opposition attackers allows for extra cover)
What skill set is required to be successful?
A key principle to be secure behind the ball is positioning, and it is important players have a strong awareness of space, distances between units, and potential dangers in order to position themselves in a strong defensive position when the team is in possession in case the attack breaks down.

In order to take up a secure position behind the attack, anticipation and strong game understanding skills allow players to identify where the ball might land if play breaks down. Through consistently scanning and looking away from the ball they are able to read the play and communicate the danger early, ensuring they can apply pressure immediately after the ball is lost and either regain and recycle possession to start another attack, or reduce the risk of an opposition counterattack. Sergio Busquets and Ngolo Kante are world class midfield examples of this.

It's not just midfielders responsible for this security however and Italy's Chiellini and Bonucci have vast experience in the game and possess a strong ability to anticipate and close gaps, even when the ball is 40 yards ahead of play. They are not afraid to defend 1v1 but always remain narrow and compact together, whilst also organising the players in front of them. With this in mind it is essential the whole team understand the importance of this security when in possession. Manuel Neuer is a great example starting from the back as he is a goalkeeper who is often referred to as a 'sweeper keeper' as he is comfortable protecting the space in front of him and behind his defenders to predict any ball in behind and react to pick up possession.
Thought process when providing security behind the ball
As play is progressing the players providing security must be thinking "Am I in a good position to win the ball back if the attack breaks down?" Once an attack is breaking down this then shifts to "Can I win the ball back?" However, if this is not possible it then becomes "Can I delay an attack and allow my team mates to recover?"

When the opposition make a clearance, this is the point they try to squeeze up the pitch and relieve some pressure by condensing the space. However, in doing so they can be athletically unprepared with their shoulders and feet square to the play, making it difficult to react and turn to protect the space behind during a quick second wave attack. This is the moment the player regaining the ball can assess the situation and ask themselves "Can I threaten the defensive line in one pass?" Failing this, the thought then becomes "Can I keep the ball and change the picture to attack again."
Considerations for coaches
How would you set your team up to be secure behind the ball? This could be equal numbers, one, or two defenders more than the opposition attackers. It is also important to consider the state of the game (winning, losing, cautious or aggressive approach).

What coaching position would allow me to observe communication, positioning and organisation?

Can I provide practices that stimulate the mind to work on player awareness? (Concentration, reading the game 'moments')

Can I create pressure within practices to enable players to prepare for chaos? E.g. leave two fast strikers up as you look to break down a low block.
What strategies have you put in place to ensure your team are secure behind the ball? Let us know below.