The game we know and love is constantly evolving, but there have been few rule changes in recent years more impactful than the introduction of the new five substitution rule. Perhaps no team have highlighted the importance of effectively deploying players off the bench better than the England Women senior team during their Euro 2022 winning campaign.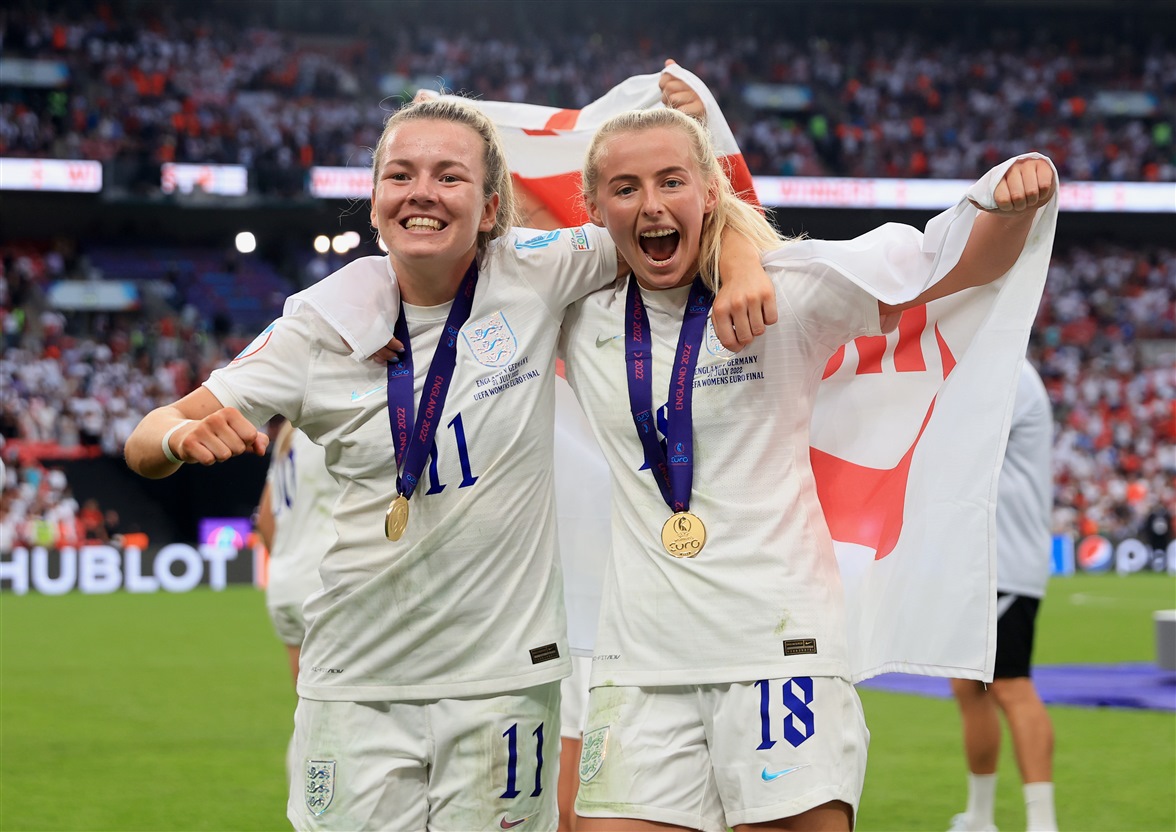 7 of England's 22 goals were scored by subs, including Ella Toone and Chloe Kelly's goals in the final v Germany
There are many different reasons why we make in-game changes as coaches, whether it be physical, tactical, or social. Sometimes we we're guided by our head and sometimes our hearts. This is what makes the game so great at every level we compete at. Regardless of who we're coaching, the question we can always pose ourselves is "how can I be more effective when making subs during games?".
We uncovered some insights of when and how subs were used during the Women's 2022 European Championships. These insights are shared below alongside coaching considerations that will help us plan more effectively for making changes within games.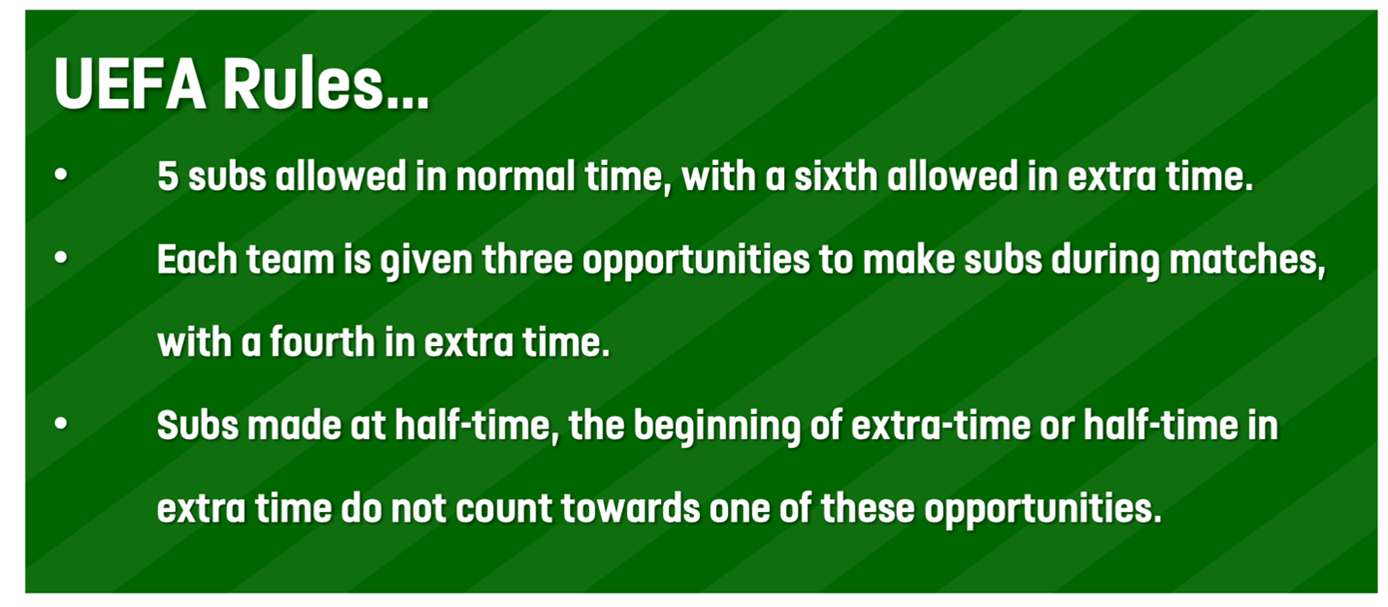 The increase in subs allowed means that during this tournament, coaches could change nearly half of their team throughout normal time in a game. This may sound familiar to coaches of younger age groups.
This leads us to consider how we account and prepare for so many players being changed. And how do we best communicate messages to players entering the field, and players remaining on the field?
Singles, doubles, and triples…
When watching matches in the professional game, you may have spotted more double and triple subs being made by coaches. This is because they now have more opportunities to changes players, but within a limited number of windows throughout a game. Within the Euro 2022 tournament, less than half of all substitutions entered the field alone.
What would be the benefits to your team of changing more than one player at the same time? And what might be the potential drawbacks? What impact does an opposing coach making multiple changes at the same time have on your approach the game?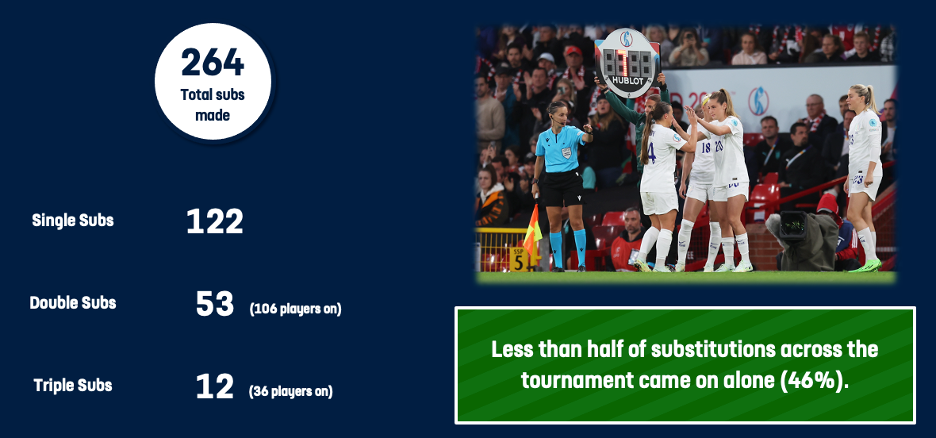 England's Game Changers…
England deployed the same starting 11 for each of their six tournament matches, and with a settled starting selection, came a settled substitution strategy. Only Mary Earps and Leah Williamson avoided being subbed off during the tournament which illustrates just how much trust Sarina Wiegman and her coaches placed on the squad as a whole. Russo, Kelly and Toone came off the bench in every game and it's safe to say that each of them were pivotal to England's success. This wasn't just a case of 'fresh legs' but more an injection of energy and revitalised confidence on the pitch.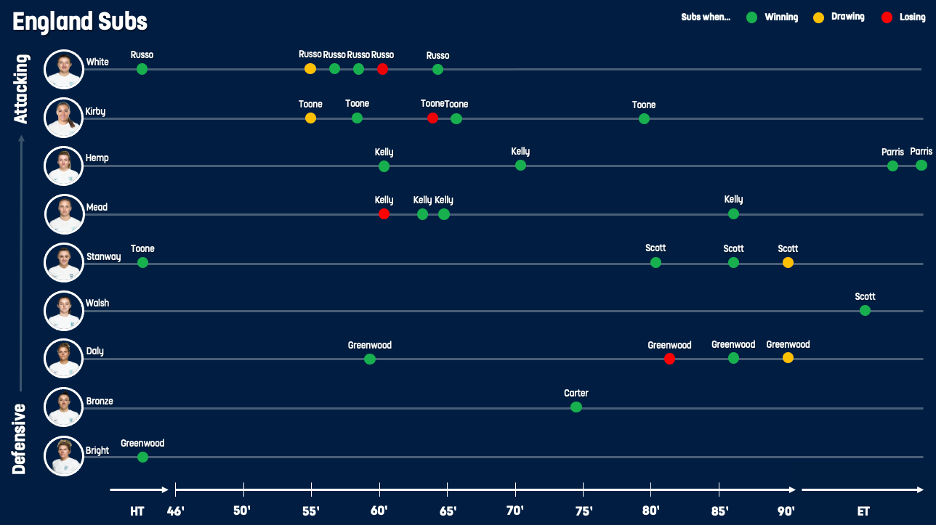 The image above shows England's story of in-game changes. On the left we have the nine starting players that were subbed off. You can then read across the match timeline to see who replaced them, when they were replaced, and whether England were winning, drawing or losing at the time.
A question for coaches based around this graphic would be – what would this look like for the teams and players you lead? If you plotted this over ten games or a whole season, what common behaviors would we see? Would certain positions be changed more than others? Would certain players only experience coming if the team were losing? Would timings of subs be affected by the team winning, drawing or losing?
Providing inspirational opportunities
Based on the importance of finding solutions to in-game scenarios, the topic of substitutions has perhaps remained uncharted territory for coaches wishing to provide players with the best possible experience on a matchday. The effective introduction of individuals during a game can elicit benefits for how our teams perform in a single match, to a longer-term player development perspective.
Subs now seem to be playing an ever-increasing role at senior levels of the game. Is it time to explore our own approaches to both 'pre-planned' and 'in the moment' game changers?