In this blog, Simon Houston, The FA's game insights analyst and The FA's youth coach developers Mark Kearney and Martin Dighton talk about some key insights from the Euros tournaments and how these can be applied to coaching sessions with young players. 
How do we as coaches plan game-realistic finishing sessions?
In this blog series, we have explored finishing headlines and finishing techniques from both the U21 and senior Euros this summer and discussed how they could be interpreted to influence practice design with younger players. Within this blog, we'll explore how what happens before a goal may impact your planning for finishing sessions.
The findings…
Does every goal scorer receive the ball from a teammate? What other situations may result in the goal scorer receiving the ball? From the data across both tournaments, we know that an assist from a teammate features in the vast majority of goals (86%). The remaining goals occurred directly from situations where the goal scorer receives the ball from the opposition or is simply presented with the ball from rebounds.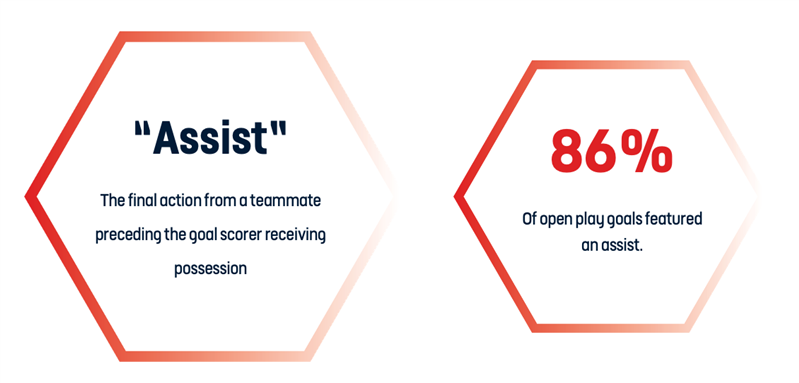 If most goals require a connection between teammates, where do these connections occur? When we consider what an assist looks like, we may picture a cross from a wide area, or a penetrative pass from a nearby teammate.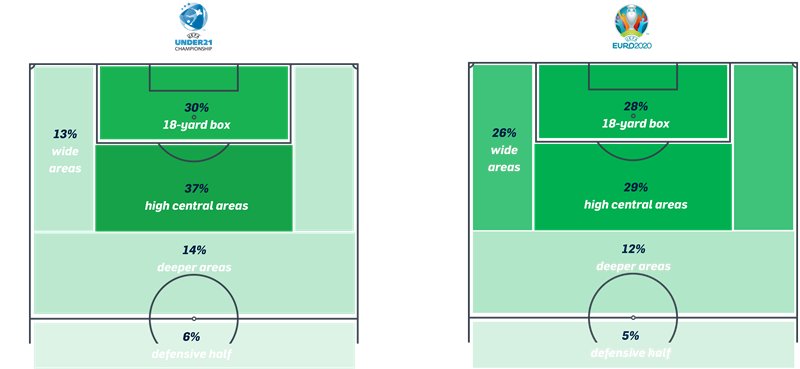 As we can observe from the images above, high central areas and the 18-yard box are common locations for the final pass from a teammate before the goal scorer receives possession. Another similarity between assist locations in both tournaments is that just under 2 of every 10 assists came from deeper areas inside the attacking half or the team's defensive half. How much should practice reflect these distances?

A critical difference between the two tournaments is the relative rarity of assists from wide areas in the U21 tournament when compared to the senior competition. Are youth teams crossing the ball less, or do crosses look different at that level?

Another essential factor to consider when designing practices to score goals is where a team's possession originates on the pitch. This insight can help guide realistic area sizes for practice, and the above graphic shows where goal-scoring possessions began in both tournaments. In the senior euros, over half of the goals originated within the attacking third (54%), and this reduced further down the pitch with less developing in the middle third (32%) and a small number of goals beginning in the defensive third (14%). Within the U21 tournament, the origins of possession were more evenly spread between the three-thirds of the pitch.

Mark Kearney and Martin Dighton have taken this data and considered how it might impact coaches designing practices for younger players. Their thoughts are summarised below:
Importance of team connections
Do we consider which players we deliberately put alongside each other in practices to replicate what they'll come across at the weekend? If we play with a front three, how often do we link those front three together to build a relationship?

Another important consideration with younger players is, are they ready to start assisting other people? We must consider the psychological implications of sharing the ball and connecting with teammates against striving for individual success.
Variety of assist locations
Do we as coaches know where your team is likely to get assists from? Is this from individual strengths or strategies and tactics? The key message from the data is that assists can occur everywhere, even inside our own half, so we must consider how best to create the situations within sessions.
Relevant areas and numbers
The area size of a practice is really important; it could be as simple as making a pitch wider than usual if we want to encourage assists from wide locations, then understanding the trade-offs this may have on other aspects of attacking play. The depth of a pitch should also be considered to give players enough space to run and receive the ball in behind.

Within grassroots and youth coaches, we often trade off realism for success to give our players lots of chances to score easily. While we may think this fosters motivation and enjoyment, we want players to stay motivated to beat defenders in realistic match situations. Motivation may be lost within games if a practice has built a false sense of how easy goal-scoring can be. A balance of difficulty can be dialled up and down accordingly by adding in defenders within finishing sessions.

Essentially, small-sided games with goals provide realistic and enjoyable challenges for kids with transitional moments that create players that can adapt to various goal-scoring situations on a match day.

To view the practice Mark and Martin created from using these coaching implications, watch this webinar or check out the whole 4-part webinar series here.
 
What do you think of this blog? Do you have any questions for Simon, Mark or Martin? Have you tried out their suggestions? Let us know in the comments below.