A clear trend we saw from Euro 2020 was teams playing with a narrow attacking front three when in possession. With a vast amount of talent and different formations on display we have seen this deployed in a variety of ways and this article will demonstrate what that looked like for different teams and why you might consider using it with your team.
Who played with a narrow front three?
Throughout the Euros we saw teams adopting a narrow front three in different ways: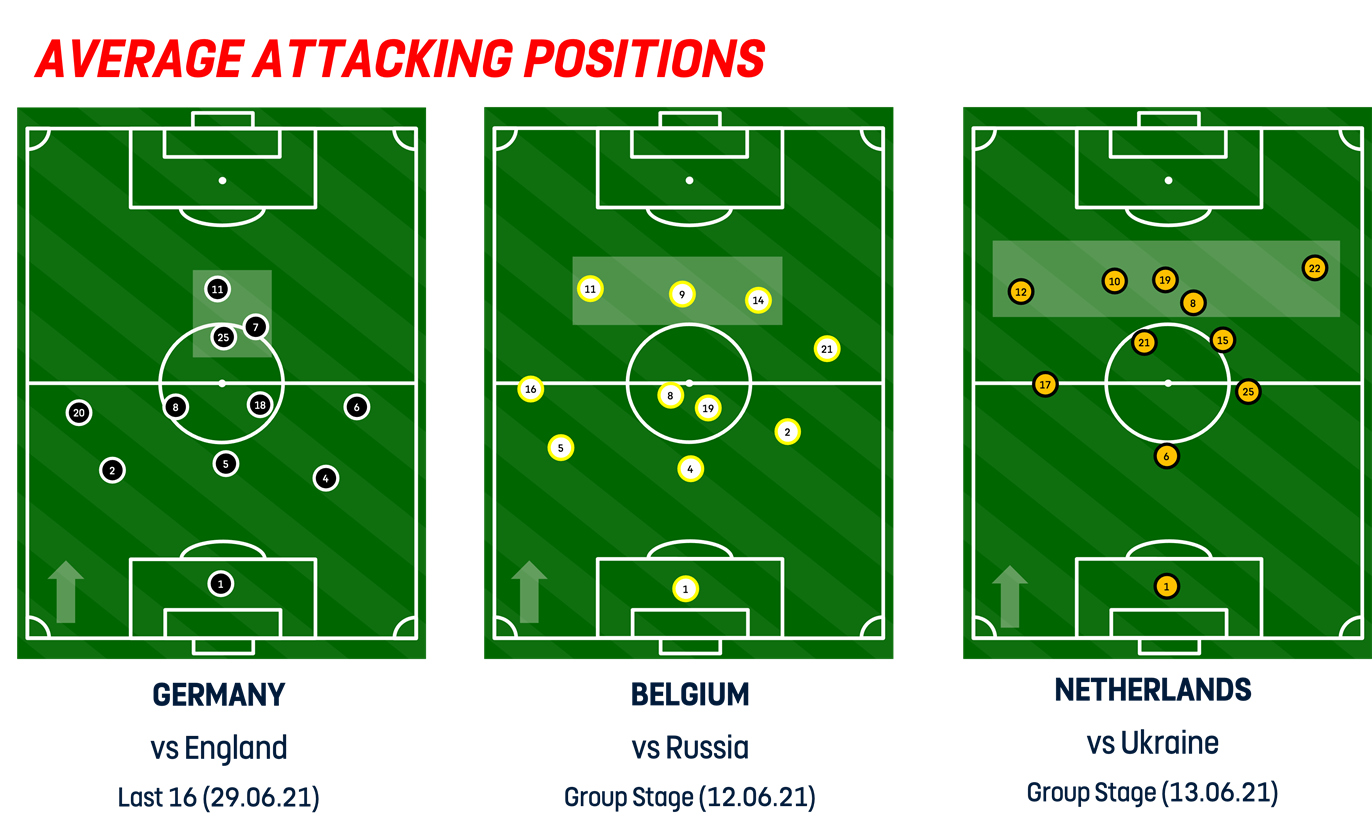 Germany for example played with a front three who stayed in narrow positions, similar to an arrow-head with Gnabry at the top and Muller and Havertz behind.
France's front three of Mbappe, Benzema and Griezemann on the other hand often started wide before becoming narrow, relying on the passing ability of Paul Pogba to break defensive lines to find them.
Belgium commonly played directly into the physical presence of Romelu Lukaku, with movements from his nearest to attacking players to link and combine, or manipulate the defender to create a goalscoring opportunity for himself.
The Netherlands used their two strikers and attacking midfield player (Wijnaldum) to form a narrow front three. However they deployed this tactic in a different way by taking advantage of the space it can create in wide areas for wing backs to get on the ball.
Why play with a narrow front three?
When playing with a narrow front three the main purpose is penetration and finding different ways to create and score goals. Using this strategy provides the opportunity to gain overloads in central areas and passes to be played between the opposition's defensive lines.
Playing the ball into these areas aims to entice defenders out of their slot and into areas they aren't comfortable defending. As a result, we have seen teams look to exploit the space left in behind by quick and clever combination play. Examples of this include playing up back and through, or disrupting the opposition by coming towards or away from the ball and therefore triggering second movements for a support player to run in behind.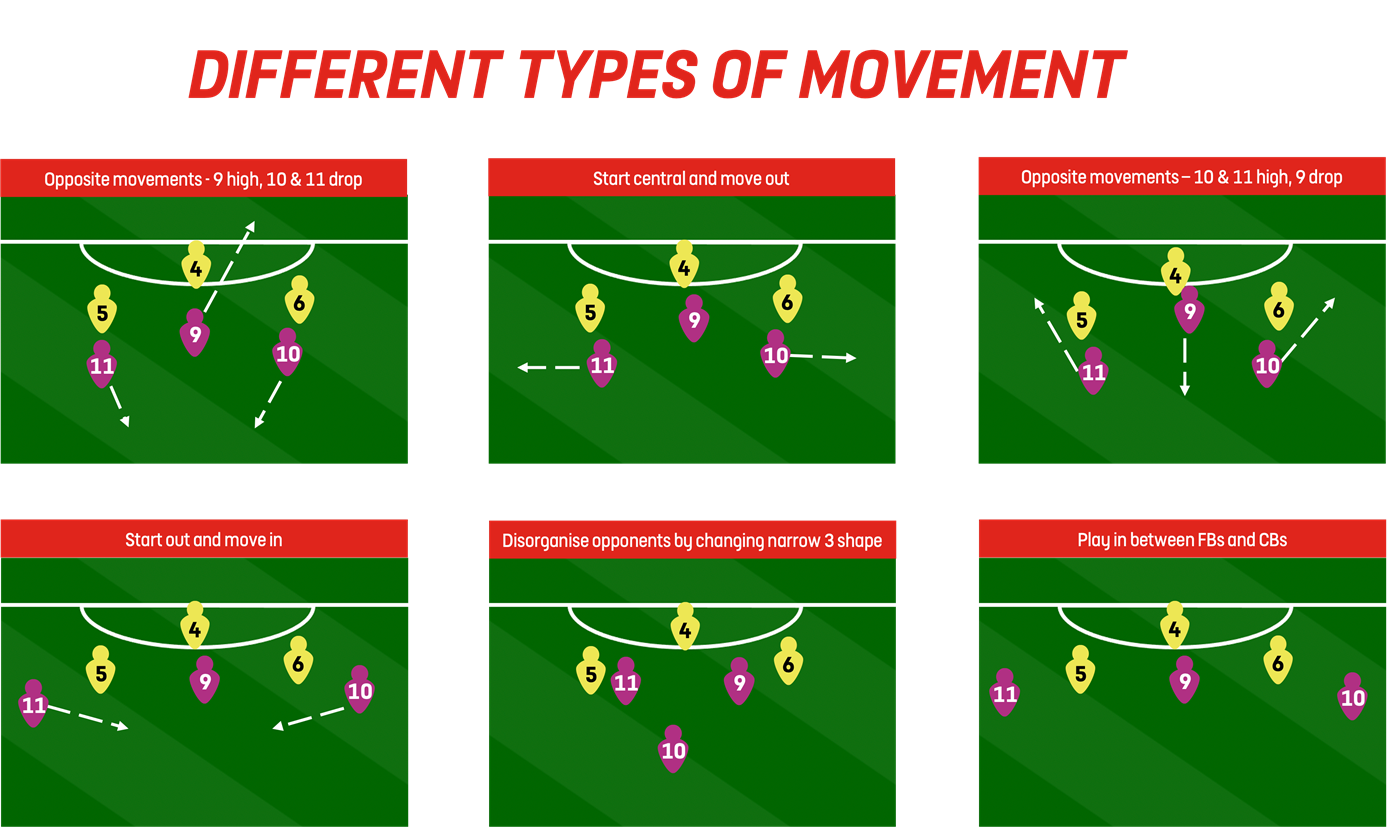 What opportunities can overloading central areas create?
Overloading central areas means that central space can become very congested and as a result space opens up in wide areas. Throughout the tournament we have seen many teams attack in a 1-2-3-5 or 1-3-2-5 formation with their front three narrow and two wing backs attacking high to really exploit this space, posing the challenge to the opposition of whether they are brave enough to defend 5v5 at the back. As can be seen from the graphic above, Denzil Dumfries of the Netherlands is one player who gained a lot of success from this strategy scoring two goals in the tournament. His match winning goal against Ukraine was a great example of the front three of Weghorst, Depay and Wijnaldum occupying central spaces which narrowed the Ukraine back line enough to allow Dumfries to attack a cross at the back post and score with a header (see 2mins 40secs on the link below).
What does it take to be successful?
Although we have seen teams deploying this strategy and achieving success in different ways, some key attributes remain consistent. As a team are building an attack they are waiting for the right moment to pounce, and at that moment we see a clear change of tempo to play forward and move the ball quickly in minimal touches.
It is important players can anticipate and see patterns before the ball arrives. The top players think two or three passes ahead and quickly adjust their body position through open or closed movements to affect the opposition. For example, Romelu Lukaku often uses his physical dominance to "pin" the defender and lay the ball off for a team-mate. Alternatively, using his awareness skills he can identify where the defender and the space is before choosing to protect the ball and turn to have a shot on goal. His goal against Finland is a great example of this (3mins 40 secs on the link below)
Players must be prepared to make unselfish movements in order to create space for their team mates, and this along with some of the movement patterns we have discussed are some of the key contributing factors to Euro 2020 seeing a massive 30% of open play goals scored from the ball being played in behind the opposition's defensive line.
How can I work on this with my players?
To replicate the demands of playing with a narrow front three it is important to develop your players' technical ability of receiving and playing in tight areas. This technical session is designed to encourage individual decision making and different types of movements to receive and combine.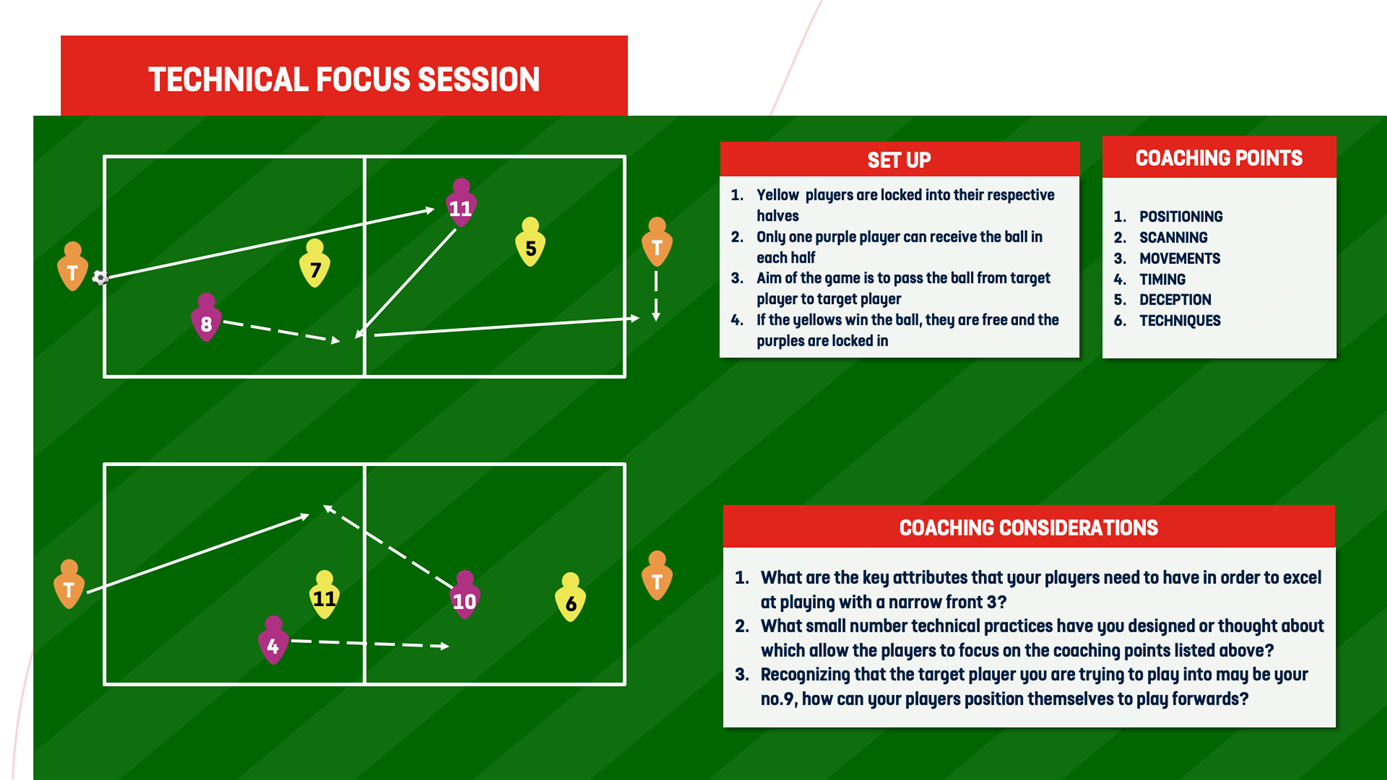 Building on the technical focus session, the practice below progresses into an attack vs defence scenario. The purple attacking players must now work together to find ways of disrupting the yellow opposition back line. Recognising some of the elements and movement patterns discussed in this article their decision making will be put to the test as they assess when and how to link and combine to get in behind, while being aware that central overloads may create space in wide areas for the wing backs (3 & 7).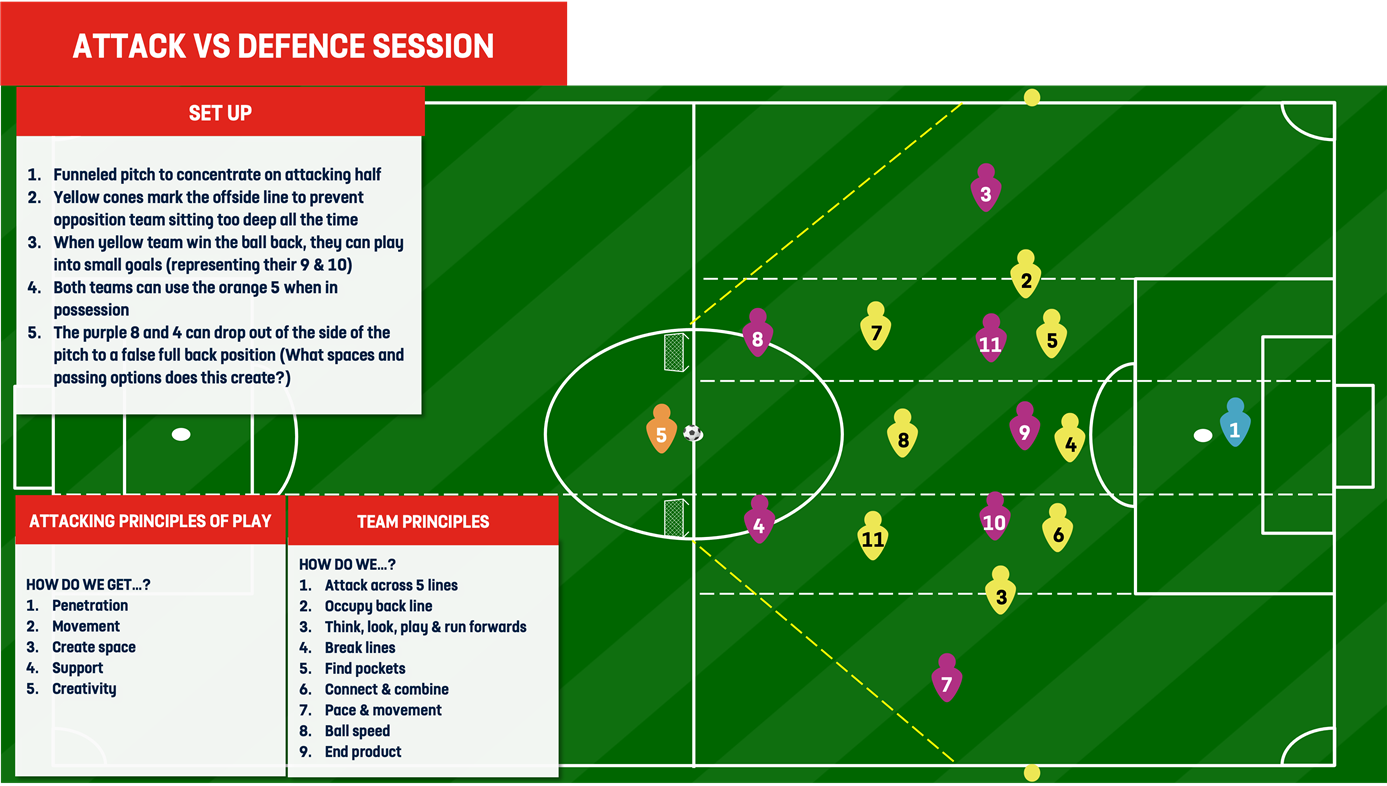 Considerations for coaches
What system and style of play would you like to adopt with your players? Do your players have the skillset required?
Do you provide enough variety and challenges within your practices to develop physical returns, but also technical / tactical qualities of playing forwards in tight areas?
Does your coaching position provide you with the opportunity to recognise and observe the individual tactics your players are using to either combine or create space for their team mates?
Do you set your players enough problems and decision making opportunities while providing them support within in the solution process?
Let us know in the comments below.