Ages ago my son was playing a game on his pad called Soccer Hero. It is kind of like playing football in levels. The team he plays for and I coach where getting good a keeping the ball but needed work on creating chances so I thought about creating Soccer Hero into a game they could play. I had seen similar things to this before but never including lives and the possibility of going out. Of the 12 in the team only 3 had played Soccer Hero (don't like the name but it is catchier than Football Hero) so we explained how the game works.
The objective is to improve the Speed of Passing. The penetration of the team. The risk taking. The movement. The awareness.
And so far it has worked. The team are passing to each other quicker and moving forward to create chances. It has even helped to improved the attitude of the players. Knowing they are playing this at the end has meant they work hard at the previous tasks and listen to gain as much time at the end to play this.
Anywhere between 7 and 12 is good.
As I wrote earlier I am sure someone else will have thought of this before and may have even put this on here but I thought it would be worth putting on here for anyone else who may find it useful.
If you have a go at it. Let me know how you get on? Anything you would change in the STEP process? Anything you would do differently?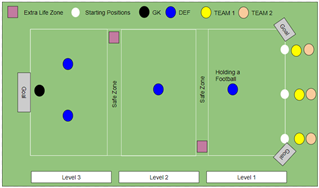 Equipment

Large Goal

2 x Mini Goals

Cones to make three zones

Area 60 by 20 if you are playing with 11 players.

Plus Starting Positions

And Extra Life Zones

Bibs

Rules - Attackers

Teams start with 3 lives

Teams pass the ball and try to get to the next level.

Once they have entered a level they cannot go back.

Placing your foot on top of the ball means it is safe.

Rules - Defenders

You must stay in your Zone

You can only enter a Safe Zone if a player doesn't have his foot on top of the ball.

How to Lose Lives

The ball going out of play

The goalkeeper saving and throwing out to a defender

and defender or Goalkeeper scoring in the mini goal

How to Gain Lives

Scoring in the Goal

Entering and Exiting an Extra Life Zone

Attacking Coaching Points

Movement

Support

Awareness

Combinations

Triangles

Fast Passing

Patience

Decision Making

Defending Coaching Points

Defending Positioning & Covering

High Press

Retaining Possession and counter attack

Progression

Add a condition that

each attacker must

touch the ball at least

once in each zone

before progressing to

the next level.