In this blog, Rich Kerr National Cerebral Palsy football development officer for Cerebral Palsy Sport talks about the different Cerebral Palsy (CP) football formats and offers tips about how you can get into coaching them.
I am the national CP football development officer, working for CP Sport and have been involved in CP football for over three years.
Coaching is a rewarding role, even more so within the disability game. Providing opportunities where players feel included and fully engaged makes the experience a great one for them. There are various formats of CP football to engage individuals who often feel left out or don't get access to appropriate activities.
I would like to share my insight to inspire others to get involved in disability football.
The various formats of football available for those with CP are:
Powerchair football.

Frame football.

Ambulant football – includes CP specific, pan, and also mainstream grassroots.
Within my role, I have supported individuals to access opportunities across these formats, with more of a focus on the frame and ambulant games.
Frame football is aimed at individuals that require a walker and is a fun game that not only supports the physical development of the players but also brings them together to develop friendships, build confidence and learn new skills.
Frame football games are adapted from standard game activities. The games can be adjusted based on what players can do physically. This can include the use of frames to support moving the ball.
They provide a specific opportunity to meet the needs of those in frames and players experience a number of benefits when taking part.
"Frame football allows me to compete with other people at my age with the same level of ability. I feel included where sometimes this is not accounted for in able-bodied sports. It also gives me a chance to make new friends and push myself every day to become the best player that I can be". Quote is taken from frame football development day at SGP 2019.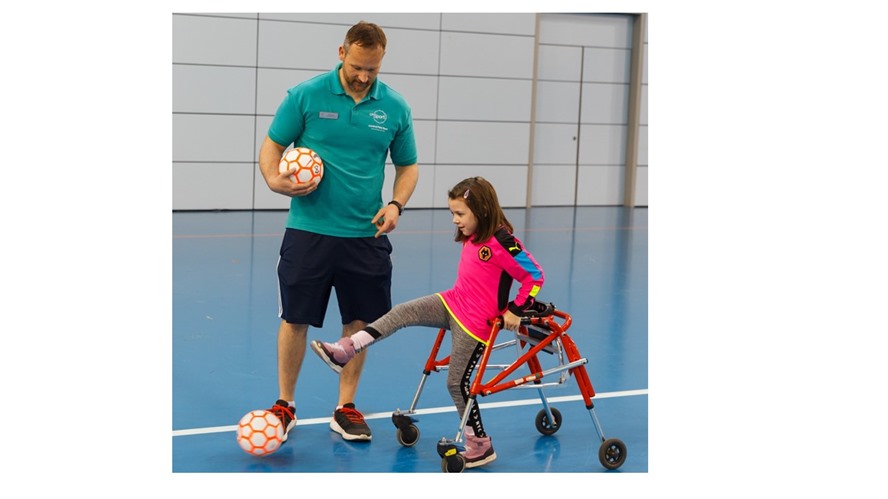 Players with CP who can play unaided, can access various club and recreational opportunities (which may be CP specific) or play within pan-disability. Games are based on small-sided formats, with specific opportunities for young players at four year age bandings and adults aged 16+. There are also opportunities for boys and girls to play together as well as specific female opportunities.
I find it rewarding providing a great experience for the players that take part in the sessions. Seeing them develop and grow in confidence and developing a real love for the game, is really rewarding.
Whether it's frame or ambulant CP football, my approach is the same. Start with the player in front of you. By watching them with a ball at their feet you can quickly start to see what movements they are able to do and what they might find more challenging.
This could include:
noticing which is their preferred foot.

how well they can move with a football.

the contact they are able to make with the football.
With passing and shooting, consider how hard players can kick the ball. You may need to look at reducing distances to allow players more success. Through these simple considerations, you can support the players to develop and grow in confidence.
Resources for you
If you would like to get into coaching various disability formats, I would say have a go at completing The FA's Disability Football introduction module to give you an overview of the opportunities and various impairment-specific formats.
Reach out to clubs that are offering CP and various disability formats and ask to go and observe and support sessions. To find local opportunities look at the club finder on the England Football website.
Also, check out the Frame Football activity channel within the Football Your Way hub.
Also, there are some Frame Football skill cards attached at the bottom of this blog for you to download.
Disability coaching is about being able to adapt what you already know and apply that to the players you have in front of you. Be positive and enthusiastic and the players will respond to this. Making the environment fun really engages the players.
With frame football, players can use their own frames or a game frame designed specifically for the game. Futsal's and flat discs work best.
Would you like to know more about opportunities to support CP football? If so let us know below.

How confident would you feel about supporting CP football?

What activity ideas do you think would be appropriate for players with CP?
Please comment below and don't forget to have a look at the skill cards attached to this blog.