Within this blog, Lauren Asquith shares her journey and key lessons learned over the last ten years. She shares some key insights into disability football all the way from grassroots.
My current role
I am the para football women's talent pathway Lead and am currently responsible for female engagement across the para football pathway including the new strategy piece regarding the development of two new England female para squads by 2024 (Blind and Cerebral Palsy). I also coach for the England deaf women's team.
My journey so far
Ever since I attended a workshop on disability football at The FA football futures camp 2011 in Hereford as a young leader I wanted to work in the sector, without a doubt! Led by the FA para talent team we had a demonstration of blind football and I was sold. All I could think of was "How on earth do I get involved?". I'd always loved football but there was just something that ignited the fire in my belly. Off I went back to my County FA sharing all of my experiences with anyone who'd listen, hoping that someone would hear me. It worked and through the remainder of 2011 through to 2013. I threw myself into every opportunity I possibly could; recreational, grassroots boys, girls talent (centre of excellence) but one stood out was disability football.
Throughout all of my volunteering hours, I learned how to adapt quickly, to communicate effectively and that being on time means that you're already 15 minutes late. Disability football really showed me the power that football can have. The joy that it can bring, the lessons it can teach and the potential it can unlock. It afforded me the opportunity to witness individuals surpassing the societal expectations, diminish perceived limitations and break down barriers through a common love for the game.
In 2013, I was appointed as the Disability Football Development Officer for Derbyshire FA and Derby County Community Trust (DCCT). Within this role I was responsible for developing the offer available across the county and within DCCT's own offer. Initially working with grassroots clubs to provide pan-disability opportunities. The learning continued here. One size did not fit all! It was about finding out what the players wanted, and what they also needed.
From here we progressed onto impairment specific opportunities working with local organisations and national disability sport organisations (NDSO's). The first session I set up was Derby DSActive – football for players with Downs Syndrome. One word for this session – carnage! Here session plans were purely a loose guide at the start. At times they had there uses but more often than not they'd changed 5-6 times in a single session. Just because it didn't look perfect – Was it safe? Yes. Was there learning in action? Yes Was it fun? Yes. Perfection took a new form for me.
Talent opportunities were next on the list. How could I help players achieve their dreams and realise their own potential? Leading on the regional para talent offer for players who were partially sighted,deaf or who had Cerebral Palsy within the midlands. Here I learned that whilst we can provide the perfect environment for players to participate, it does not always mean that it is the best environment for a player to thrive and develop. Supporting players with potential by providing the most appropriate playing opportunity was key and for many players that meant mainstream football teams. At this stage my role changed, it was now my job to educate, to influence and to support coaches to create an inclusive environment and to urge coaches to see the ability of a player before their disability. Inclusion didn't mean drastic changes for one player's benefit. We saw the overall environment improve for all players. Coaches with patience, increased use of visual aids and an emphasis on individual needs. Basically, good practice!
In 2019 I was appointed as a coach for the England deaf women's football team a role that I still undertake and despite now working with a national team my approach remains the same – if you can create the right environment for the players, you're onto a winner.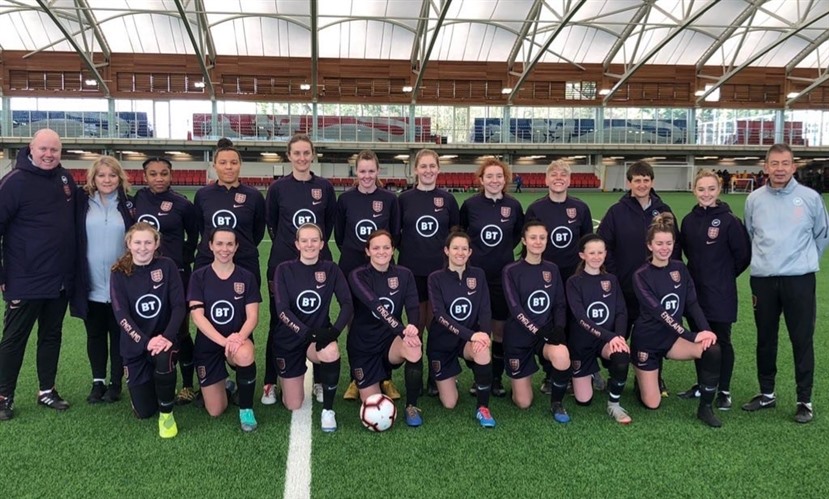 Having coached at mainstream boys' development centres, girls' regional talent centres and within the para talent pathway I urge everyone to explore as many opportunities as they can.
I've learnt from every experience and can't wait to continue my journey within disability football. Next year we will be attending the Deaflympics in Brazil 2022 as Great Britain deaf women's squad and Italy with an England women's blind development squad.
To anyone curious and wanting to know more please contact your local County FA. Be authentic and enjoy the experiences that come your way.
Check out the FA Disability Football introductory course to find out about the different formats of disability football.

If you want to further develop your coaching skills and confidence to adapt your sessions to ensure everyone is included in enjoyable, progressive activity then check out the Inclusive Activity Programme delivered by Activity Alliance in partnership with UK Coaching.
There are different ways of accessing this module:

E-learning module